Law Camp Develops Future Attorneys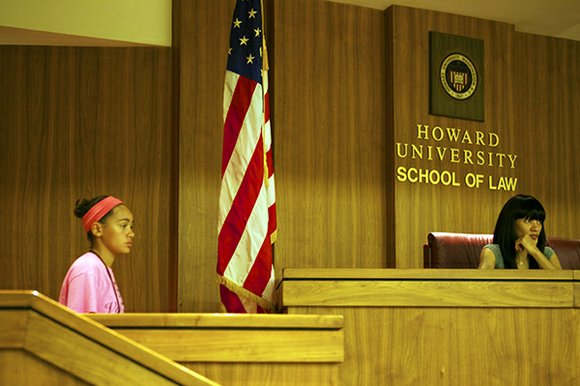 While many of the students aspire to become attorneys, others have their sights set on careers related to law.
Rachel Clayton, from New Orleans, La., returned to the camp this year as both a mentor and program assistant.
"I first heard about the program two years ago, because both of my parents are members of the [National Bar Association]," said Clayton, a 19-year-old sophomore at Tulane University in New Orleans majoring in government relations.
"I'm not stuck on becoming a lawyer, but the camp gave me an opportunity to consider what I want to do as a career," said Clayton. "It also gave participants a little experience, because like myself, they were put into scenarios similar to working on a law case, and I found that rewarding. I was able to learn more about the [National Bar Association] and what my parents do as attorneys."
Clayton added that because she tends to be shy, the camp allowed her to break out of her comfort zone and learn to effectively present her arguments.

"I think more kids should participate in programs like the camp because they get the chance to really challenge themselves while learning how to work alongside their peers and adults."
On July 16, the last day of the camp, four of the students were chosen for their work in the mock trials, as semi-finalists for the competition on July 31 in Miami. The competition will be held during the National Bar Association's annual convention at the Fontainebleau Miami Hotel.
The semi-finalists are Michael Thomas, 16, from Brooklyn, N.Y.; Kayla McDonald, 15, from Upper Marlboro, Md.; Joelle Goldston, 16, from Lansdowne, Pa.; and Brandon Dixon, 15, from Philadelphia.
Crump said what he likes most about the camp is how it has enabled his program to keep up with students from the time they enter high school until they graduate from college.

"We've followed many of them via social media like Facebook and some have begun careers aligned with the study of law and are doing amazingly well," said Crump. "We have at least 38 former campers who are currently in law school. However, we are more interested in building character than counting how many become lawyers, and based on the feedback we've had, we've met our expectations."
Call 202-842-3900 for information on the Crump Law Camp, or visit www.nationalbar.org in the fall to learn about the 2014 camp.