Marco Rubio Slammed By CBC
Senator Accused of Obstruction in Florida Judicial Appointments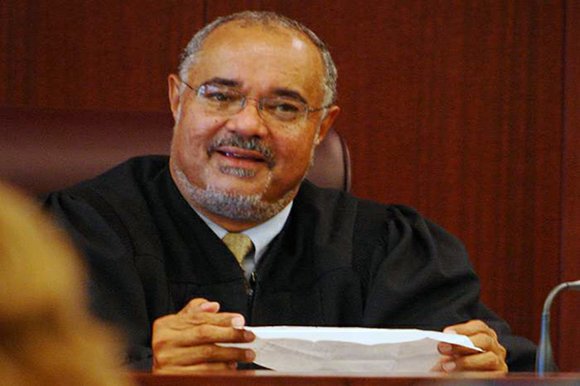 The confirmations of two African-American judicial candidates in Florida are being held up by U.S. Sen. Marco Rubio and Congressional Black Caucus leaders are demanding action for what they call negligence and obstruction on the part of the senator.
Brian Davis, a nominee for the U.S. District Court for the Middle District, and William Thomas, a candidate for the U.S District Court for the Southern District, both made it through Florida's Federal Judicial Nominating Commission, which routinely makes recommendations to state senators who meet the candidates and send letters of initial approval to the White House.
Then, the president nominates the candidates for confirmation.
"The picture is large and disconcerting," said Congresswoman Eleanor Holmes Norton (D-D.C.), a ranking member of the Congressional Black Caucus (CBC).
"While the president has kept pace and often surpassed prior presidents in black judicial appointments, a disproportionate number of African-American nominees have been held up or slowed. The CBC will not quietly allow highly-qualified African-American judges to be sidelined without hearings or to be held up on the Senate floor," she said.
Currently, 30 percent of judicial nominees pending confirmation in the Senate are black. "CBC members will continue to highlight African-American judicial nominees in Florida whose confirmations have been stalled due to negligence and obstruction by Rubio," CBC Chair Marcia Fudge said.
For his part, Rubio (R-Fla.) said he shares concerns about Davis, 60, that were raised in 2012 after the judge alleged that former U.S. Surgeon General Joycelyn Elders was forced to resign the position because she is black. Elders faced a backlash after making controversial comments at a United Nations Conference on AIDS in 1994.
Davis later said he made the comments while giving a speech about race relations in America, but admitted they were inappropriate for a judge.
"Those questions need to be resolved," said Rubio, 42.
Rubio noted that his concern about Thomas, 46, is based on the judge's involvement in a case in which he sentenced a man to 364 days in jail for the hit-and-run death of a cyclist, which Rubio considered to be far too lenient. Thomas is the first openly gay black judicial nominee for the federal courts.

CBC members said Rubio and others are simply playing politics to prevent the installation of two black judges.
Fudge, 60, and Norton, 76, each pointed out that Davis' nomination has been pending for more than 500 days and that Thomas has been waiting for more than 230 days. Fudge said both vacancies come at a time when the federal district court system is backlogged and struggling with a 10 percent judicial vacancy rate.
African-American judges also are underrepresented in the federal judiciary. Of the 787 judges currently serving on the federal bench, 95 – or 8 percent – are African American. Judicial nominations of African Americans are also routinely held up by the Senate, CBC officials said. Nearly one-third, or 10 out of 33, of the judicial nominees currently pending in the Senate are African Americans.
"In Florida, we all have heavy hearts concerning the Trayvon Martin case," said Rep. Corrine Brown (D-Fla.). "But part of the problem is that we don't feel that the judicial system is fair. Clearly, it's not fair. And you need people to feel confident that we will take care to make sure that we have representation throughout the system. We need our senators to step up to the plate," said Brown, 66.