Trayvon Martin Supporters March in 100 Cities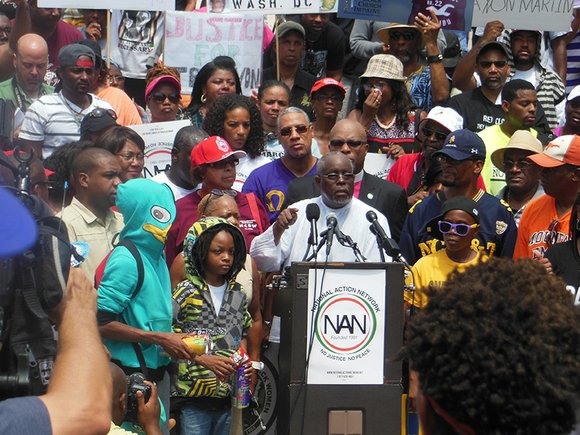 "This was long overdue. I've lived in New York when Amadou Diallo was shot many times reaching for his wallet," said Brooks, 54. "They're frisking our black men and nothing is coming of it. They're just stopping and provoking them."
"The focus is on repealing 'Stand Your Ground' and really looking at the politicians who support the law so we can vote them out. The elections are coming up soon. It's just about making people aware about what's going on."
The Rev. Al Sharpton and the National Action Network organized the 100-city rally with the help of church leaders nationally. Demonstrators gathered in large and small cities around the country, including New York, Dallas, Atlanta, Los Angeles, Wichita and Miami.
In New York, Trayvon's mother, Sybrina Fulton, Jay- Z and Beyonce, were among the throng who braved the heat and humidity to show their support for Trayvon.
"Trayvon may not have been perfect but he was mine. He was mine," Fulton told supporters. "We loved him, we supported him; we cared for him, just like you do your kids. The verdict won't stop here. This is another chapter of a different movement. We've moved on from the verdict. Of course we're hurting; of course we're shocked and disappointed but that just means we have to roll up our sleeves and continue the fight …"
Sharpton and civil rights organizations are pressing Attorney General Eric Holder to file federal civil rights charges against Zimmerman. The rallies are also a push-back against "Stand Your Ground" laws that has so far, seen courts rule 66 deaths as justifiable homicide in Florida this year.
The Justice Department is investigating whether Zimmerman violated Trayvon's civil rights.
On the streets, in households, and between and among African Americans, discussions have centered on reaction to the verdict, what black parents should tell their children, what happens next and what that might look like.
President Barack Obama stunned some and delighted others when he used the White House's weekly briefing on July 19 to deliver an intensely personal response to the case and verdict.
"You know, when Trayvon Martin was first shot, I said that this could have been my son. Another way of saying that is Trayvon Martin could have been me, 35 years ago," he said. "And when you think about why, in the African-American community at least, there's a lot of pain around what happened here, I think it's important to recognize that the African-American community is looking at this issue through a set of experiences and a history that doesn't go away."
There are very few African-American men in this country who haven't had the experience of being followed when they were shopping in a department store. Including him, Obama explained. And there are probably very few African-American men who haven't had the experience of walking across the street and hearing the locks click on the doors of cars.
"That happened to me – at least before I was a senator," he said.
Hilary Shelton, father of three boys, said he's seen the battle for civil and human rights through that particular prism but the Zimmerman verdict crystallized for him the potential threat to his sons and others like them.