Metropolitan AME Celebrates 175 Years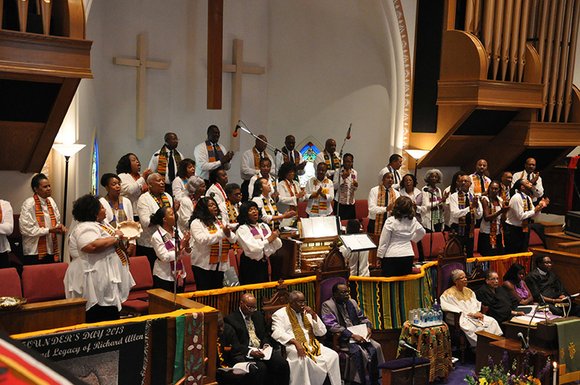 Caption – AME Bishop Samuel Green delivered a spellbinding sermon at Metropolitan AME on Sunday, July 21. /Photo by Roy Lewis.
By James Wright
WI Staff Writer
One of the District's most prominent churches celebrated its 175th anniversary recently with noted Washington area politicians in attendance and a guest speaker who strongly urged the church to continue its work despite adversity.
The Metropolitan African Methodist Episcopal Church in Northwest, pastored by the Rev. Ronald Braxton and assisted by his wife, the Rev. Marie Braxton, celebrated a significant anniversary – its 175th – with hundreds of its members and visitors on Sunday, July 21. The theme for the jubilant occasion: "On the Solid Rock: We Stand." D.C. Mayor Vincent Gray (D) congratulated the church for its longevity and its commitment to fighting for equal rights and justice for all.
"This is a historic congregation," said Gray, 70. "This church is intrinsically tied to every facet of the city."
Metropolitan AME Church was founded in 1838 as a result of a merger of two AME churches, Israel Bethel AME and Union Bethel AME. The congregants of the churches had no desire to worship in the racially-segregated Ebenezer Methodist Episcopal Church in the District.

In pre-Civil War Washington, the church served as a haven for runaway slaves and was known for its activism on behalf of the abolition of slavery and aiding free blacks in the District.
Metropolitan has long boasted distinguished members and visitors in its pulpit and its pews. Noted Americans such as Frederick Douglass, poet Paul Laurence Dunbar, educator and presidential adviser Mary McLeod Bethune, former first lady Eleanor Roosevelt, South African Bishop Desmond Tutu and former presidential candidate and civil rights leader the Rev. Jesse Jackson have either joined the church, visited at some point or addressed its congregation.
The 1993 and 1997 Inauguration prayer services for President Bill Clinton and Vice President Al Gore took place at Metropolitan. President Barack Obama and his family have worshipped at the church twice since he took office in 2009.
Douglass, labor leader A. Philip Randolph and civil rights heroine Rosa Parks were eulogized in Metropolitan's sanctuary and in recent years, the church has received national attention for its "Stop the Pipeline to Prison" and "Ending Gun Violence" programs.

William D. Euille, the mayor of Alexandria, D.C. Council Chairman Phil Mendelson (D), D.C. Council member Jack Evans (D-Ward 2) and diplomats from Africa and the Caribbean also attended the service.
D.C. Council member Vincent Orange (D-At Large) happens to be a member of Metropolitan and it's the church home for other Washington area leaders such as former Maryland State Senator Nathaniel Exum and former Small Business Administration Deputy Administrator Marie Johns.
Marie Braxton said despite the church's distinction, it's open to all.
"There are thousands upon thousands of names who will never be called [for recognition]," she said, "but they were here and they felt the presence of the Lord."
AME Bishop Samuel Green, who delivered the sermon, noted the church's history. He said that he was pleased to have the opportunity to address Metropolitan's congregation as a guest ministers. Green, in his hourlong message which strongly resembled the rhythmic style of Southern black ministers, said that America is a country of contradictions.
"We are rich in automation and technology and yet we are lacking in practicing the gospel," said Green, 52. "We spend time on space stations and get rocks from outer space from other worlds but we cannot gather the meaning of the 'Sermon on the Mount.' Evil is now perceived as good and good is perceived as evil."
Green, who presides over Oklahoma and Arkansas AME churches, said that America is on a political, social and economic merry-go-round.
He stressed that America needs to regain its moral fiber and that can be done with the help of Metropolitan. However, he said it won't be an easy task.
"When you are doing the will of God, you will be under attack from the enemy," he said. "The enemy is on hand. The enemy is busy every day. We don't believe that there is an enemy but there is and his name is Satan."
Nonetheless, he said that Metropolitan can continue along the high road and accomplish its mission of promoting social justice.
"After 175 years, God still specializes in meeting the impossible and the Lord will make a way," he said.