No Days Off for Cirque du Soleil's Mark Ward
John Richards, Special to The Informer | 7/24/2013, 12:16 p.m.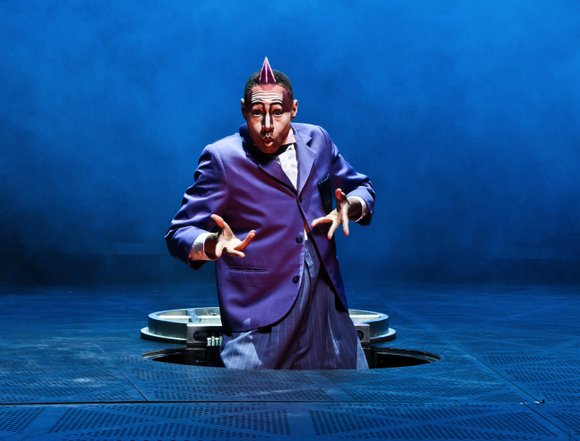 Cirque du Soleil's world famous productions are known for their stunning visuals and talented casts of world-class acrobats, musicians, singers and characters that sing, dance, jump and soar above elaborate sets.
Cirque du Soleil's "Quidam" continues this rich tradition.
Bored with her life, "Quidam" is the whimsical dream world imagined by Zoe, a little girl who is ignored by her busy parents. Originally presented as a big top production, "Quidam" is now touring the world as an arena show.
The lead character, John, is played by Cirque du Soleil veteran Mark Ward. The versatile performer is an accomplished dancer, gymnast and classically trained pianist who has been a part of several ballet companies and touring productions. He is an original member of the Cirque du Soleil production "Mystère."
The Washington Informer caught up with Ward to discuss several topics including his arts background, his incredible dedication and work ethic and why he enjoys traveling.
Washington Informer: "Quidam" is described as "a young girl's escape into a world of imagination." What was your childhood like?
Mark Ward: Mine was a little bit different. I grew up in Texas and in Mexico. I was always kind of the black sheep of the family. I was doing everything that my brothers and sisters weren't doing [Laughs]. I always wanted to do acrobatics and dance, but I didn't know any little Black or Latino kids doing that, so I kind of just substituted. And then later in life when I had the opportunity to actually start performing, I jumped at the chance.
WI: What is your arts education background?
MW: Like I said, I was a gymnast for many years and I trained in a classical piano. I've been playing piano for about 40 something years now, classical dancer as well as jazz. I performed all over United States and Europe as a gymnast and a dancer. And then I joined Cirque du Soleil in 1993.
WI: You're an accomplished dancer, classical pianist. Obviously, the arts have been a major part of your life. Growing up, you said you didn't see kids doing things you wanted to do. How important do you feel that arts education in school is?
MW: Oh, it's very important, you know. It was actually around me, but I just didn't think that I was capable of doing it, or I didn't see any kids that I knew doing it [Laughs]. So I think it's very important because it gives kids an opportunity to broaden their horizons. To see things differently, not to just settle with the ordinary things. With music and dancing, acrobatics it opens up the mind, it's just a great opportunity. Unfortunately, I've found in the United States that it's not very accessible to kids to have this chance.
WI: So what were some of your influences growing up?
MW: Oh, man, oh my gosh. As far as music goes, I was always looking it all the old things like Dizzy Gillespie, Cab Calloway, even gospel — Jennifer Holliday. As far as dance goes, I saw Baryshnikov dance. I've never seen someone fly across the screen like that, I wanted to do that. I substituted that for gymnastics because it gave me that flying feeling.