No Days Off for Cirque du Soleil's Mark Ward
John Richards, Special to The Informer | 7/24/2013, 12:16 p.m.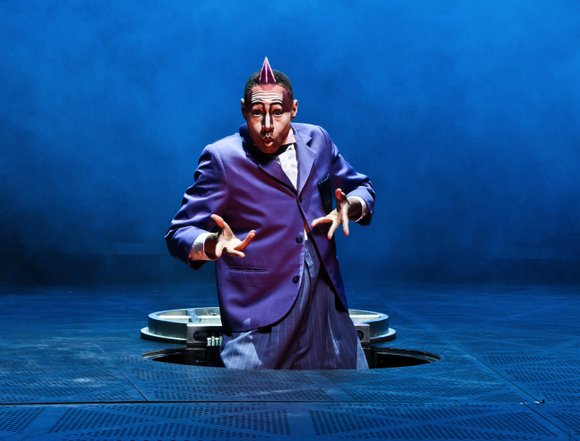 WI: You joined "Quidam" in 1999. I know it started out as a big top show and now it's an arena show. How has the show changed since you joined the cast?
MW: Well, you know, artists come and go but you have to learn to accept those new artists because they bring new blood. The message of "Quidam" is the same. But especially for me, as the principal character, I have to adapt to every country, city I go to. I'm in Raleigh right now. What they like in Raleigh, what they find funny in Raleigh, they might not find that [funny] in Washington or Fairfax. And definitely not the same in Japan. So we have to be sensitive and be willing to change and adapt to the customs of the countries that we're in. We do change the acts but the message of a "Quidam" is still the same. We're definitely always improving the acts, want to make them better.
WI: I was reading your bio, you've obviously traveled the world but you make it a point to explore the cities that you visit. What were some of the more interesting cities that you visited in your travels?
MW: Well, I actually live in Buenos Aires, Argentina. I've been living there since 2006. I'm a citizen there and everything. I loved all of Europe — Copenhagen, Spain is wonderful, I love the U.K. I've been all over Asia, they all have different things.
For me, being blessed to travel, it's all about the culture, seeing the differences, because at the end of the day, we're all people, we're all human beings and we all shed the same blood, but it's the culture we can share. If you go to Japan, it's gonna be totally different, it's gonna be mind blowing, but you wanna get out and experience that. You see what makes them Japanese, the things they like, the food, the culture, that's what you get a chance to experience and I think that's just amazing.
WI: Last year I interviewed "Totem" cast member Essi Acquaah-Harrison and just from speaking with her I could tell that Cirque du Soleil is one big family. Recently, another one of the Cirque du Soleil productions, "Kà," suffered the tragic loss of one of its performers. How is everyone dealing with that?
MW: We are a close-knit group. It was a tragedy to us, it was very difficult. We've been very blessed to have nothing like this happen in 30 years, our prayers and best wishes go out to this artist and her family and her Cirque du Soleil family as well. We're coping, the message of Cirque du Soleil is hope, you know? I think that the Cirque du Soleil shows help us rediscover and communicate with the kid that we have inside. As adults, we often forget this. We're so tied up with everything and trying to make things work, trying to make the dollar.
Cirque du Soleil helps us channel that inner child because kids know how to enjoy life and have fun and that's what Cirque du Soleil does. And I think the message for us, even more importantly now, is to continue to bring that. For us, it just makes us strive even harder because it's a blessing to be able to do this job.