Gray Announces Stadium Deal with DC United
WI Web Staff | 7/25/2013, 7:25 p.m.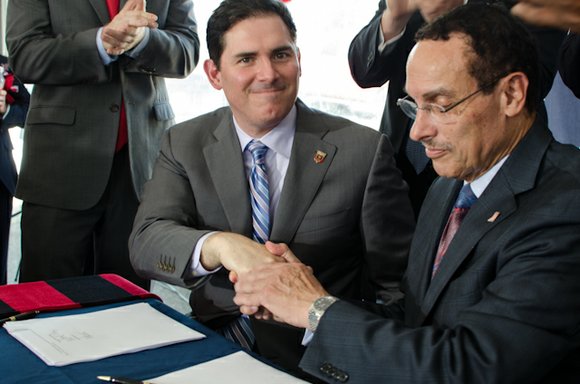 Mayor Vincent Gray announced Thursday a deal with DC United to build a $300 million, soccer-only stadium at Buzzard Point in Southwest.
The agreement calls for the stadium, which will be located on an industrial site near where the Nationals currently play, to be opened in 2016.
"The winningest franchise in Major League Soccer will be staying right here in the nation's capital," Gray said in announcing that the stadium would be constructed on the nine-acre plot.
The deal also calls for the city to split the cost of the stadium — which will seat about 20,000 spectators — with DC United.
While DC United has played at RFK Stadium in Northeast since its inaugural season in 1995, Gray has said the stadium was never well-suited for soccer games.
The 50-year-old stadium, where football games have traditionally been played, is in dire need of updated amenities and repairs to its crumbling infrastructure.
The D.C. Council still has to approve to the deal, which will also offer property tax incentives and the opportunity for the new owners to develop retail space.