MLB Suspends Ryan Braun – Now What?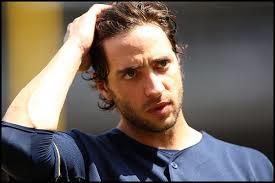 After accepting a season–ending suspension for violating the Major League Baseball drug policy after denying guilt for eighteen months, the Milwaukee Brewers embattled leftfielder faced an onslaught of national media to an extent not seen since the days of Barry Bonds.
Words like fraud, liar and cheat were used most often after Braun was busted in MLB's investigation of the Biogenesis Clinic alleged to have sold performance-enhancing drugs to players.
Surprisingly, other major league players took turns blasting Braun for being exposed as a user of PEDs after vehemently proclaiming his innocence for such a long time. Some players feel that Braun should be stripped of his 2011 Most Valuable Player award. Jack O'Connell, Secretary-Treasurer of the Baseball Writers' Association of America, indicated that the 2011 MVP vote was final and wouldn't be reversed.
Much of the player criticism came from Arizona. The Diamondbacks were eliminated in a five-game division series in October 2011, with Braun batting .500 with a home run and four RBIs.
Outside of Milwaukee, there wasn't much support for Braun. In his locker room, the rhetoric was more restrained, though you would strongly suspect that teammates who had supported Braun through this controversy felt betrayed to some extent.
Beyond Braun's teammates, the organization itself is in a difficult predicament with a player who became the face of the franchise two years ago, when he inked a five-year, $105 million contract extension that runs through 2020 with a mutual option in 2021. Even though Braun will forfeit $3.4 million in salary while on suspension, the Brewers owe him about $130 million over the balance of his career.
At that salary level and now an admitted drug cheat, Braun is probably an untradeable player. Knowing that, the Brewers are in the tough spot of having to support their best player while also supporting the MLB drug policy.
Braun did make a statement of apology which merely acknowledged that he made "mistakes" without providing details. As a result, some are speculating whether the team should encourage him to hold a press conference to respond to questions in person. But team officials aren't sure what he might say, so it probably won't happen.
Though everyone involved agrees that the Brewers have no choice but to move forward and put Braun's suspension behind them as soon as possible, no one is quite sure how it will work. It will be interesting to see, over time, how the Brewers handle Braun's career, clean up this public relations mess and continue to improve their team.