Is Walmart Holding our Mayor Hostage?
Kimberly Mitchell, Ward 7 Resident | 7/26/2013, 5:32 p.m.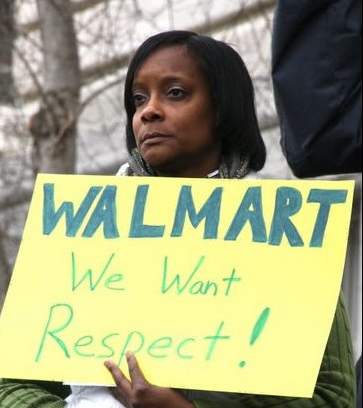 Last week, I was at the D.C. Council for the vote to pass the Large Retailer Accountability Act (LRAA). This bill would require large retailers with revenues in excess of $1 billion, and stores with more than 75,000 square feet to pay their D.C. employees a compensation package (wages plus benefits) of $12.50 an hour. This bill is about creating a different vision for D.C., where people are paid fairly, have money to spend at local businesses, and aren't being forced out due to lower wages and higher prices. That is the future I want for my city.
I was shocked to watch my Council member, Yvette Alexander, a woman that I and so many of my neighbors elected to represent us, the people of Ward 7, vote against a living wage.

I am a life-long Ward 7 resident, a single mother and have been an employee of Macy's for eight years. I know that holding large retailers -- who make more than $1 billion -- accountable to pay a living wage to their employees makes sense.
The day before the vote, Walmart showed us how childish billion-dollar corporations can be when a community stands up to them. They threatened our council members, and our city, saying that if they were required to pay a living wage they would back out of three of the proposed Walmart's, including two in my Ward. My Council Member, Yvette Alexander, chose to give in to these threats and to essentially evict us -- her own constituents, who put her in office in the first place -- as more and more of us are forced out of the city by a lack of good jobs.
This bill is about providing a living wage for D.C. workers.

I know that many people in my ward are not homeowners, not because they don't want to own, but they can't afford to: it's just too expensive here.

There are housing developments going up in the hope of revitalizing our neighborhoods, but we know they are not for us. Instead, most of this new development is just pushing out those who have resided here their whole lives. It's not fair and we need to push back.
I don't deny that Walmart would be bringing jobs, but when you are taking home a pay check that barely covers rent or puts food on the table, with no healthcare or other benefits, is that really something is that is acceptable for D.C. workers? I don't think so, and I, along with many of my neighbors and a majority of the D.C. Council, believe we can demand better.
I thank the eight council members who stayed strong and voted for the LRAA, because of their stand we have an opportunity to make some progress.
However, Mayor Vincent Gray is currently being held hostage by Walmart.
Based on comments from his deputy mayor for Planning and Economic Development, the mayor's only concern seems to be saying he was able to create jobs, ignoring that if they aren't good, living wage jobs, D.C. is going to continue turning into a place where none of us can afford to live.
I urge you, like I have urged so many of my coworkers, friends and neighbors: take action as citizens of this city! We must hold each other accountable for making positive change. The mayor has said he wants to hear from the residents, so it's our time.

We have the chance to put this historic bill into law and set the reel in motion to pull thousands of D.C. retail workers out of poverty, and enrich the future of the job market in this city for generations to come.