Wizards Preparing Huge Deal for Wall
Superstar Guard Nears $80 Million Deal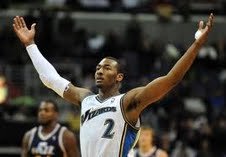 The National Basketball Association is filled with star-studded players who receive the maximum contract under league rules.
The Miami Heat has LeBron James, the Los Angeles Lakers are led by Kobe Bryant, the New York Knicks are Carmelo Anthony's team and the Oklahoma City Thunder lean heavily upon the shoulders of All-Star Kevin Durant.
Each of those players signed max – or franchise player-type – deals with salaries staring in the $20 million per year range. Now, the woeful, but promising, Washington Wizards believe they have a player in John Wall who is worth such elite status.
Multiple reports suggest that the Wizards and Wall are this close to a contract extension that will pay the versatile guard better than $80 million over five years.
"The Wizards are playing the futures market, betting that Wall, who had career highs of 18.5 points and 44.1 percent shooting, is beginning to make an earnest climb to new heights now that the franchise is no longer in turmoil, has an identity and solid pieces surround him," said Comcast Sports Networks' Wizards Insider, J Michael.
Using the glass is half-empty approach, Michael noted that Wall is a 42.3 percent career shooter and the Wizards won just 29 games last season, good for just 11th place in the NBA Eastern Conference. It was also the most the team, which hasn't made the playoffs since 2008, has won in Wall's three years in Washington.
"The glass is half-full approach shows that the Wizards were 15-7 when Wall, who missed the first 33 games last season because of injury, Bradley Beal and Nene were in the lineup together and Martell Webster had a career-best season with 50 percent plus shooting when sharing the floor with him," Michael said.
The Wizards apparently believe Wall, 22, is the player to lead the team to better times. "They've made significant progress toward completing the deal, the maximum contract extension allowed," said Yahoo's top sports writer, Adrian Wojnarowski.
ESPN's Marc Stein said the deal should be finalized by Thursday, Aug. 1.
Michael noted that most observers will say Wall isn't as good as Deron Williams, the three-time All-Star point guard for the Brooklyn Nets, but that didn't exactly hold true last season. Their numbers were similar across the board with Williams posting 18.9 points per game on 44 percent shooting and 7.7 assists.

Williams, who signed a five-year, $100 million extension last year, averaged 18.8 points, 10.5 assists and shot a career-best 50.5 percent in his third season.

"Despite having a fast-paced, open-court style, Wall is a no-frills type who represents an image that the franchise readily embraces," Michael said.