The Week in Sports: Pujols Placed on Disabled List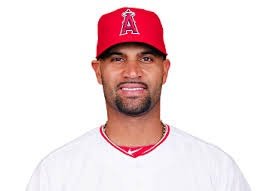 Los Angeles Angels star Albert Pujols was placed on the disabled list Sunday with a tear in his left foot and could be out for the rest of the season.
Even if he's able to return this season, he's expected to miss a significant amount of time.
Pujols was diagnosed with a partially torn plantar fascia, an injury that has plagued him most of this season. He exacerbated the injury while running out a single in the ninth inning of the Angels' 6-4 loss at Oakland.
At this point, surgery seems unlikely, but it is unclear whether Pujols will return this season.
Martinez steps down as Marlins hitting coach
Following player allegations of verbal abuse, Tino Martinez has resigned as the Miami Marlins' hitting coach.
After Sunday's victory over the Pittsburgh Pirates, Martinez met with Marlins officials and resigned. He was in his first season as a professional coach.

Martinez apologized to the Marlins organization for his behavior, indicating that he got in trouble for making comments to players he intended as constructive criticism. For most of the season, the Marlins have ranked last in the major leagues in runs and batting. Martinez admitted to angrily grabbing rookie Derek Dietrich by the jersey in the batting cage earlier this season. Dietrich, recently sent down to the Marlins' AAA team in New Orleans, was among the players who complained about Martinez.
The outcome of Martinez's brief stint is a big disappointment for the entire organization. The team's interim hitting coach will be minor league field coordinator John Pierson.
Mahan forfeits tournament lead for daughter's birth
PGA golfer Hunter Mahan made the happy transition from tournament leader to proud father.
He announced the birth of his daughter Sunday, one day after withdrawing from the Canadian Open while holding a two-shot lead once his wife went into labor.
He was leading the competition in Oakville, Ontario, after the completion of two rounds. When his wife went into labor a month before her due date, he withdrew from the tournament and flew home to Dallas.
Zoe Olivia Mahan was born at 3:26 a.m. in Texas.
Mahan tweeted: "What a whirlwind of a day."
As a result of Mahan's withdrawal, Brandt Snedeker assumed the lead and won the championship Sunday, finishing at 16 shots under par.