DCPS, Charter Schools Celebrate Test Gains
Dorothy Rowley | 7/30/2013, 12:19 p.m. | Updated on 8/7/2013, 3 p.m.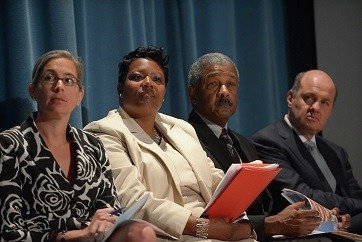 For the first time since 2008, more students than ever at the city's public and charter schools have made significant gains on the yearly District of Columbia Comprehensive Assessment System (DC CAS) tests.
While students in the public school system were praised for their improved proficiency in reading and math, test scores in the same areas and science were even higher for their peers at charter facilities.
"Yes," said Mayor Vincent C. Gray, 70, as he announced the progress during a celebration July 30 at Kelly Miller Middle School in Northeast – where major strides were made. Notable increases were also documented at Jefferson Academy and Middle School in Southwest, and Harriet Tubman Elementary School and Columbia Heights Education Campus, both in Northwest.
Each year since 2007, proficiency evaluations in math, reading, science and writing have been administered to students in grades third through eighth as well as 10th-graders in each of the city's eight wards. The latest improvements were highlighted in data released on July 29 by the Office of the State Superintendent of Education (OSSE).
This year's gains were made in comparison to 2012 scores, when the District showed only modest strides in elementary math and reading. During the same time, proficiency in reading and math declined slightly in middle and high schools.
Overall in 2013, proficiency in both math and reading were up by nearly four percent, and science proficiency was up nearly two percent. And, proficiency in writing increased by nearly five percent.
The DC CAS tests were initially administered six years ago when Adrian Fenty was mayor and Michelle Rhee served as chancellor for the District of Columbia Public Schools (DCPS) system. Although improvements were noted in 2008, they pale in comparison to current scores, according to the OSSE report.
"Our investments in human capital are paying off," said Chancellor Kaya Henderson, 43, who received a standing ovation from about 400 people seated in the auditorium at Kelly Miller. "The latest test score results are proof that the city's approach to school reform is working."
Scott Pearson, executive director of the D.C. Public Charter School Board, said he's most proud that the charters "have improved from year-to-year."
He said that while his schools are effectively closing the achievement gap and that students play an integral role, much of the credit goes to parents, "who are the backbone" of the system.
"We don't want mediocrity – we want excellence – and that's what the schools are stepping up to," said Pearson, adding for example, that students at Inspired Teaching Public Charter School in Northwest had a 26.2 percent gain in test scores.
To that end, Rushern Baker III, Prince George's County executive – who was invited to the celebration by Gray – said he planned on sharing a lot of what he heard with his school board.
"One of the things we wanted to see, is how District school officials are making improvements, because we are also undergoing the government [restructure] that D.C. went through a couple years ago [with the Fenty/Rhee takeover]," said Baker. "[The District has] taken a bold step in the right direction. … I like the fact that they've integrated the entire government into making schools better."
Henderson added that District officials merely invested in strategies that are clearly paying off.
"We have a ton of schools that have made amazing gains," she said. "This is a solid foundation that we're going to continue to build on, and we're going to continue to make sure that we have the very best educators and a rigorous curriculum," said Henderson. "We're also going to continue looking differently at how we engage parents and motivate our students."
Meanwhile, in a brief response to a reporter's inquiry regarding suspicions about widespread cheating in 2008 by teachers on student standardized tests, Gray said "sufficient measures have been established" to ensure that won't occur.