Film Director F. Gary Gray, Harley-Davidson Celebrate African-American Bikers
WI Web Staff | 7/30/2013, 4:04 p.m.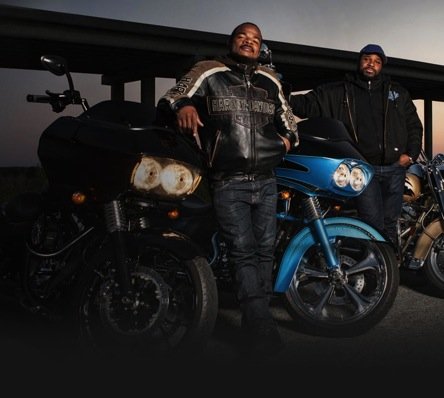 Film director F. Gary Gray, an avid motorcyclist, has combined his two passions in a documentary that follows an epic 500-mile journey on his custom Harley-Davidson.
In the video, which debuted on www.h-d.com/ironelite, Gray, the director of such box-office hits as "Friday" and "Set It Off," describes riding his Harley-Davidson as a form of meditation. "When I'm not working, I'm riding." said Gray.
Joining Gray on the ride, which he described as "his best ever," were three of his Harley-riding friends, including actor and "Cosby Show" alum Malcolm-Jamal Warner. During their journey from Atlanta to one of the largest annual gatherings of black bikers in Daytona Beach, Fla., Gray wore the Harley-Davidson Freedom Jacket, a leather jacket passed from rider to rider worldwide as part the company's 110th anniversary celebration.
The jacket will return to Milwaukee for a final celebration and display at the Harley-Davidson Museum on Labor Day weekend, Aug. 29 - Sept. 1.
"The Freedom Jacket symbolizes the brotherhood between riders." Gray said. "Adding a patch honoring the Iron Elite represents Harley's long history with African American riders. Whether you're in a group or a single rider, we all have this unspoken bond."
Gray joins a long line of African Americans who have contributed to the 110-year history of Harley-Davidson. Since the company's founding in 1903, African Americans have had a defining impact on Harley-Davidson's brand and motorcycling culture. It is a history filled with visionaries, artists, leaders and revolutionaries.
William B. Johnson, the first African American licensed by the American Motorcycle Association to race, was also as the first African American to own a Harley-Davidson dealership. Bessie Stringfield was the first black woman to ride solo cross country. Custom bike builder Benny Hardy created the Captain America motorcycle for the movie "Easy Rider."
For a behind the scenes look at Gray's inspirational journey with the Freedom Jacket, and to find more feature stories about African American Harley legends and the brotherhood of black bikers, visit www.h-d.com/ironelite.