Son of P.G. County Exec Baker Expresses World View through Art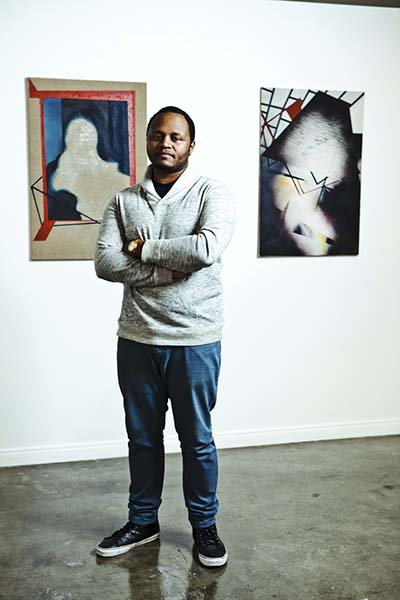 Rushern Baker IV usually lets his artwork speak for itself.
However last week Baker explained his thought process, motivation and techniques before an audience of friends, fans, artists and others.
The art talk took place on July 27 at the 39th Street Gallery at the Gateway Arts Center in Brentwood.
In the hour-long talk, Baker, who is the Gateway Community Development Corporation's (CDC) current artist-in-residence and a painter, shared his evolution as an artist and how politics and foreign affairs factor into his work.
Baker, the son of Prince George's County Executive Rushern Baker III, briefly touched on the influence growing up around politics has had on him. In fact, earlier in his life Baker thought he would follow in his father's footsteps. He notes he's always had a fascination with government.
"My inherent affinity for political theater keeps me in tune to the issues facing American society and leads me to explore the connection between art and politics," he penned in his artist's statement.
"I want my paintings to generate a discourse around policy, especially foreign policy," said Baker, who attended Suitland High School before going to The Cooper Union for the Advancement of Science and Art in New York City to pursue a bachelor of fine arts degree and then to Yale University in New Haven, Conn., for his master of fine arts degree.
He talked about the support he's received from family, mentioning that his father allowed him to turn the family garage into a studio. He also showed an abstract painting of his mother Christa Beverly who is struggling with dementia.
Baker, 25, is also an educator who lectures at the University of Maryland, College Park and coordinates a publicly funded mobile arts program for youth.
In the past year, he exhibited his work at the Reginald Ingraham Gallery in Los Angeles, Museum of Contemporary African Diasporan Arts in Brooklyn, N.Y., Motus Fort and Koki Arts in Tokyo and Yale University. He also recently co-curated "On the Verge," an exhibition recognizing Prince George's County artists in Annapolis.
During his talk, Baker projected images of his early and more recent works on a wall. He discussed artists who've inspired him and his use of hard-edge geometric shapes in some of his pieces.
One of his themes was suburban architecture and he showed a piece titled "Gerrymander" with a bright yellow line cutting down the center. Another painting has President Barack Obama outfitted as an astronaut with a predator drone in the background. Baker, who volunteered for the Obama campaign in New Hampshire, said he wanted to capture the angst and elation of an African American in the White House but also with a foreshadowing of things to come. A piece with dominant colors of blue, orange, green and gray was related to the war in Afghanistan and Iraq and several others showed explosions, missiles, tanks, predator drones and other war-themes.
Following his remarks, the approximately two dozen art enthusiasts toured his studio and asked the artist questions about the colors and materials he uses and his development as an artist.
John Paradiso, facility and program manager for Gateway CDC, said the artist talks are a way for the artists and the community to connect. Three artists-in-residence rotate through the gallery annually.