Lexus LS Flagship Offers Every Conceivable Amenity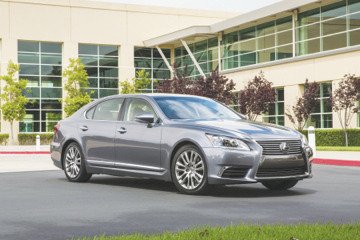 I have spent the last six days driving the 2013 Lexus LS 460. And after roughly 650 miles of errand-running, commuting and highway cruising, I can safely say this: It's a blast to live somebody else's privilege. While driving around the Washington, D.C. metropolitan area in the favorite chariot of powerful lobbyists, diplomats, industry titans and celebrities, I know my joy ride will end in a few days.
But I have been praying that my dream will stretch just a little longer because I will need extra grace to face D.C.'s 90 plus degree summer weather on my usual commute via trusty Metro Bus Route 28. I will need even more grace to reacquaint myself with my ancient Honda whose most prominent features include faded paint, mileage north of 200,000 and a sputtering air conditioning system to match.
For 2013 model year Lexus has reportedly replaced more than 3,000 items – about 50 percent of the vehicle's components.The new LS is comfortable, soaking up bumps like an extra-duty Brawny paper towel sops up spilt milk on the kitchen table. It has every amenity you'd ever want in a luxury vehicle, and with its freshened appearance integrating the company's new spindle grille, it looks elegant, modern and reassuring. It is the ideal big car: a calm and reassuring presence offering deliberate and proficient motion. As the benchmark for luxury among Japanese sedans, the LS presents a license for the greater mortals to seal themselves off from the outside world.
Inside, the materials are top notch, and the LS surprised me with its quiet and seamless power delivery. The touch controls, knobs and a mouse-like shuttle controller take some getting used to – it's easy to overshoot a mark and hit the wrong button on the view screen. Overall, however, the system works without too much confusion and the layout is simple and smart. Compared to the Lexus ES we previously reviewed, the updated LS cabin is light years ahead in comfort and aesthetics. The 16-way power-adjustable front seats are some of the best, and there was plenty of room for my 6-foot-plus sons and their friends in all directions. Every component that a body part may contact is soft to the touch and richly textured, all very well done.
For the eager buyer, there are several different LS trims to choose from: the standard LS 460, the LS 460 F-Sport, and the LS 600h, a hybrid. Among those trims, each can be optioned with all-wheel drive instead of the standard rear-wheel drive, and the standard LS 460 can be had in long wheelbase; the LS 600h only comes in long wheelbase. Prices range from just under $90,000 for the standard LS 460 models to a whopping $135,000 for the LS 600h L hybrid model.
And while the Lexus LS has been a very good luxury car for many years, the 2013 model will have to prove itself to recession-scarred buyers. Before the economic crash of 2007-2008, cheap credit and rising lifestyle expectations fueled a boom in luxury cars. But as many consumers faced lowered possibilities and prepared for a leaner future, the idea of paying $50,000 for a car – much less the $80,000 (and up) that the Lexus LS commands – started seeming a bit foolish. To compound the problem, Lexus no longer has to compete with just BMW and Mercedes-Benz, the brands it once shamed. Today, the LS competes with the resurgent Cadillac, Porsche, Audi and Jaguar brands, and the upstart Equus from Hyundai, among others, to capture an ever-decreasing slice of the luxury pie.