Priebus Building Bridges to Black Community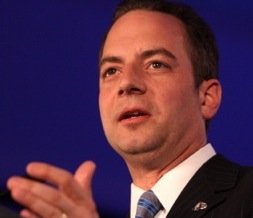 Republican National Committee (RNC) Chairman Reince Priebus is making good on his promise to cement relations with the black community.
Two weeks ago, he made his first visit to the annual convention of the National Association for the Advancement of Colored People (NAACP) in Orlando, Fla. Priebus said he gladly accepted Hilary Shelton's invitation, saying he enjoyed the meeting and one-on-ones.
"It was my first time and I enjoyed it," said Priebus during a recent interview. "Actually, the reception was remarkable. I was welcomed with open arms. Hilary was my host for the night and I met hundreds of people. I felt they were very glad to see me there."
Last week, he traveled to Philadelphia for the National Urban League annual convention, and planned to be at an upcoming National Black Chamber of Commerce gathering and other events.


Shelton, director of the NAACP's Washington Bureau and senior vice president for policy and advocacy, said he visited Priebus to solicit his support in reworking the section of the Voting Rights Act (VRA) invalidated by the Supreme Court in June.
"What I do know is that I can't get anything through Congress without both sides and Section 4 is way too important to lose to party bantering," said Shelton, who has handled the organization's federal government affairs for 17 years. "We're non-partisan. African Americans have been both. They were Republican before and overwhelmingly Democratic now."
Chief Justice John Roberts stated in the majority opinion that the VRA had outlived its usefulness because America's racial landscape no longer resembles that of the past. In light of current conditions, Roberts explained, Section 4's formula is unconstitutional and he called on Congress to provide the fix.
Section 4 identifies which states and jurisdictions have implemented voting measures which discriminate against blacks and Latinos, while Section 5 blocks those areas with a history of voting discrimination from making any electoral changes without permission [preclearance] from the Department of Justice or a federal court.
Shelton said Priebus indicated a desire to attend the conference and he served as host.
Priebus, 40, had promised earlier this year that he would work tirelessly to reach out to African Americans, while admitting his party's neglect of what he called an important constituency.
"Ours is a party that needs to get better and work year-round. We have to fight for the African- American vote in this country and we're going to do it," the Wisconsin native said. "I'm not delusional. I don't think we'll carpet the world in three months. We have to keep doing this. We have to get out into the community block-by-block."
Shelton said he's pleased Priebus made the time.
"I think they were happy to have him there. They were very enthusiastic," said Shelton of the chairman, board members and state conference presidents who met Priebus. "I actually said to him that the proof is in the policy. And I reminded him that when we exited slavery, we overwhelmingly voted Republican. Different demographics vote their interests.We were not able to fully enter the mainstream of society and we looked for who could help us do that."