Priebus Building Bridges to Black Community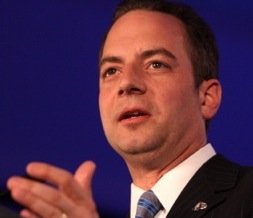 In that regard, Shelton said, the NAACP and African Americans are still engaged in that quest, and he used the Voting Rights Act as an example.
"In 2006, the entire Senate and all but 33 GOP members of the House voted to reauthorize the Voting Rights Act," he said.
"Rep. Debbie Wasserman Shultz (D-Fla.) spoke [prior to Priebus' arrival] that morning. We had strong support from Democrats and we were looking for the same from the GOP. Our hope is that with leadership and the party chair we can fix this problem."
Any policies Republicans support and push must reflect the needs and concerns of African Americans, Shelton asserted.
"We talked about a number of issues," he said. "A number of Republicans support certain things that are of concern to us and aren't a part of our agenda. Now they have to step up. We had that discussion. I go to both party conventions and those who are at the table shape the agenda."
"The GOP voted for an agenda that is detrimental to African Americans. I wish I could say that they support our agenda. We're aggressively moving to get Republican support for our agenda."
Priebus acknowledges the poor image Republicans have among African Americans and he vows to be remembered as the Republican chairman who changed the way his party is viewed and the manner in which it does business. He said he remains committed to building long-term, lasting and authentic relationships in places where the Republican Party "just hasn't been."
And tangible and measurable action must replace words and platitudes.
"I had expectations of meeting a lot of people who might have been slightly surprised that I was there," he said. "The folks I met were very kind, hospitable and wonderful to me. It was a great night. There's not a night we shouldn't be there.We need to grow our party. I know we've got a lot of ground to make up with the black community."
"This is just the beginning, not just at events like this.This is a new RNC. I'll be at the Black Chamber conference in Florida, which is an opportunity to share, let them know that we're a party of opportunity."