Rally, Training Helps Children Combat Bullying
Margaret Summers | 7/31/2013, noon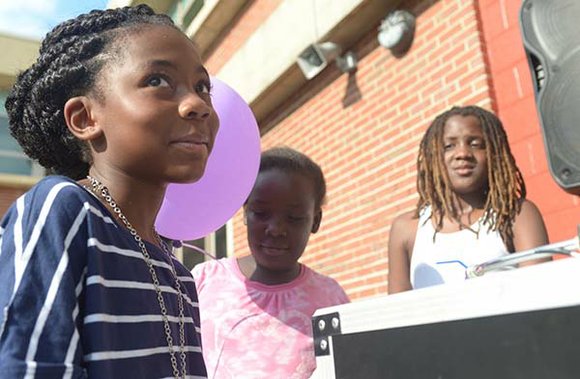 Waving homemade signs and shouting "Bully Alert!" more than 100 children, ages five to 13, parents, and other adults, marched on July 25 from the Benning Road Metro station to J.C. Nalle Community School at 219 50th Street in Southeast. On the Ward 7 school's playground, they rallied against bullying.
"During the school year, there were children bullied at Nalle," said Tonya Sherman, director of the school's five-week summer enrichment camp, Summer in the City. "Our children had also been hearing about young people in other cities who committed suicide or dropped out of school because of bullying."
The camp organized the "Turn Up and Step Up Against Bullying" event, with assistance from the Youth Leadership Academy, which is part of the nonprofit National Center for Children and Families' (NCCF) CARA House, a Ward 7-based parent education program.
"Our children need 21st century anti-bullying skills. We can't just tell them to 'walk away from bullies' or 'turn the other cheek,'" said Sherman, 50. "It's more complicated than that."
The Nalle Community School partners with NCCF, The Freddie Mac Foundation, and the District of Columbia Public Schools. Its services to more than 1,500 low-income young people and families include counseling, parent education, after school academic enrichment programs, and the summer camp, whose participants are from all over the District.
"In our particular community, kids are used to seeing the worst of the worst," said Sherman. "They have experienced a lot of yellow 'Do Not Cross' police tape. They've seen people shot, which is a form of bullying."
Sherman said many summer camp participants feel Trayvon Martin's murder in Florida was another form of bullying, as Martin was stalked, then shot to death by George Zimmerman. "We had social workers counseling our kids (after the Zimmerman verdict)."
The anti-bullying skills taught in the summer camp and at Nalle, said Sherman, include reporting bullying to an adult, and "talking down" the bully by having the bully explain his or her actions and stopping them. "Bullies are in (emotional) pain. They bully people because they've been bullied."
"We taught campers to not be afraid of bullies, and to not fight them out of fear that they will appear weak if they don't fight," said Sherman.
Sherman said campers were taught to yell "Bully Alert!" whenever bullying behavior presents itself. All camp activities stopped until the bullying stopped. Bullies could not participate in camp activities like field trips. "They learned that there are consequences for their behavior," she said.
Rapper Chi Chi Monet, 10, of Capitol Heights, Md., and her sister Zoe, nine, performed at the rally, including Monet's rap, "No Bully," which, as is the case with all of her raps, she wrote herself. "Bullying is bad, so we have to promote anti-bullying," Chi Chi said.
Britney Napper, 13, a student at Paul Public Charter School in Northwest, told the crowd of approximately 150 or more, "We want peace. We don't want violence. We want to be bully-free."
Christian Mitchell, nine, a Nalle student entering fourth grade when school reopens, said he was bullied by some eighth-grade boys the day before the rally. One boy picked him up and threw him on the ground. "I was scared. I told the boy to get his hand off me, and I tried to move his hand off," said Christian.
He said he participated in the rally because "Bullying can hurt you, and it's not fair to people (who are bullied). It's not right."
The campers have produced a public service video on bullying which will be posted on YouTube, said Sherman. And they will apply their new anti-bullying skills in their schools. "I think it's never too early to teach these skills. Even kindergartners can be taught to say 'Bully Alert!'"