THE RELIGION CORNER: 'The Big Secret' About Domestic Violence — Pt. 3
7/31/2013, 3 p.m.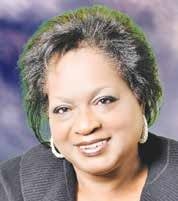 For the past several weeks, I've written about domestic violence in all of its ghastly forms: physical, emotional and financial abuse. Many spouses and intimate partners intimidate women and think it's all right. But, God isn't pleased with that type of behavior. In the heat of their rage, men, and some women seem to forget, that it's not their right to batter a person or take their life because of their personal insecurity or low self-esteem.
Never forget that abusers come from all walks of life and according to statistics, they are equally divided among Christians, and other religious denominations – even the most beloved ministers fall into this category.
Should you continue to read this column over the next few weeks, and if you're a victim of domestic violence, think strategically, and plan your getaway. According to statistics from the National Organization of Women, in 2005, 1,181 women have been murdered by an intimate partner. That's an average of three women per day. Of all the women murdered in the United States about one-third died at the hand of an intimate partner.
Don't feel hopeless, desperate, confused, or alone. You may not want to tell others about your situation because you're afraid, ashamed, or embarrassed, but you must! It's imperative!
Last week, I shared the story of a friend, Lynn Strange, a domestic violence survivor. The strong bond between Lynn and her dad, a local police officer, proved to be her Achilles heel. Lynn admitted that she was too ashamed to confide in her father.
Many victims of domestic violence suffer from shame. They endure the abuse – they take the hits – whether they're physical or emotional – while they're engaged in these demeaning and often fatal relationships.
Fortunately, Lynn lived to share her story.
She refused to tell her father, a police officer who worked for the Metropolitan Police Department (MPD) in the District about the abuse.
She told family and friends that the bruises on her body resulted from random falls or other accidental injuries. Lynn thought, "Being the daughter of a police officer, how could I allow a man to beat me so viciously." She knew her father loved her and would have protected her, yet she felt that she might jeopardize his standing within MPD, if he knew about the abuse and confronted her husband.
Domestic violence is often misunderstood. For many victims of domestic violence – packing a bag and walking out of the front door – isn't that simple. The paralyzing fear and threats of harm impedes the victim's ability to seek relief. Lynn's father died before she sought help.
Lynn said she will never forget on her father's death bed how he whispered to her, "Please do not let him kill you." Those chilling words motivated her to seek safety through the judicial system.
At that time, the laws and support systems for victims of domestic violence were limited. Lynn had to navigate the judicial process alone and without the benefit of a court advocate.
Today, she's a catalyst for change. Lynn speaks at churches throughout the region about domestic violence – and she never hesitates to share her story. She also talks candidly about this topic on the airwaves, and serves on the Board of Directors of the Kennedy Foundation.
Read this scriptural reference as your proof that domestic violence isn't what God wants anyone to endure. It says: Colossians 3:18 – "Wives, submit to your husbands, as is fitting in the Lord. Husbands, love your wives, and do not be harsh with them."
Refuse to live in bondage, tell someone; get help; call 911. It's not what the Lord intends for any of us.
Lyndia Grant is an author, inspirational and motivational speaker, radio talk show host and columnist; if you would like Lyndia to serve as a facilitator for your retreat or special event, call 202-518-3192. Tune in Fridays at 6 p.m. to Lyndia's radio talk show on 1340 AM (WYCB), a Radio One Station.