'Returned' Citizen Helps Others Register to Vote
Margaret Summers | 7/31/2013, 3 p.m.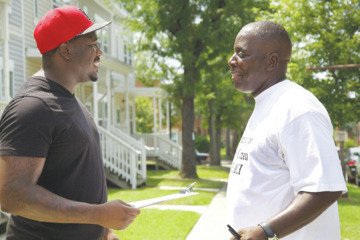 During the hot afternoon of Saturday, July 20, Courtney Stewart, founder and chairman of the volunteer organization Reentry Network for Returning Citizens, knocked on doors and walked the streets of Southwest's Greenleaf and James Creek neighborhoods, in search of reentering citizens to register as voters. Additional volunteers registered people at the King Greenleaf Recreation Center at 201 N Street in Southwest.
"Reentering" and "returning" refers to formerly incarcerated individuals. Stewart, 51, of Clinton Md., prefers those terms, over what he believes are the stigmatizing "ex-offenders," "ex-prisoners," and "ex-inmates" monikers.

"I started the organization in 2010," said Stewart, a returned citizen originally from Southeast. "In the last three years of our campaign, we've registered about 4,000 people. We used to only register voters every summer. Now it's every week."
The Reentry Network for Returning Citizens in Northeast connects returning individuals to employment, housing, mental health services, substance abuse treatment and recovery programs, and their families. It educates the public regarding issues affecting returning citizens.
Stewart said he and his organization, with assistance from District of Columbia Board of Elections volunteers, register voters in the D.C. Jail located in Southeast, addiction centers, homeless shelters, community centers, and at other locations throughout the District.

A sense of urgency motivated Stewart to initiate his campaign. "We need to know about things that affect us," and returning citizens are frequently unaware of laws passed that will influence their lives, he said.
Stewart was incarcerated in Lorton Reformatory in Lorton, Va., for three years. Paroled in 1985, he initially lived with his mother, sleeping on the floor. Gradually, he found work. After a few years as a car salesman, he cashed out his retirement account to start his commercial and residential cleaning business. In 2006, Stewart founded Mentoring Works 2, a nonprofit organization that helps at-risk District youth.
Longtime returning citizens advocate Rhozier T. "Roach" Brown, 69, endorses Stewart's voter registration campaign. "Voting is the first step toward citizenship," said Brown, founder and executive director of Inner Voices, a returning citizens' support group. He noted that jurors in trials are selected from voter registration rolls. Brown said more returning citizens on juries could result in more equitable criminal trial verdicts.
Brown was involved in the effort which gave returned District residents their right to vote. However, he said despite having voting rights, they still face discrimination.
"They can't get auto insurance, Pell grants to help them pay for a college education, or employment," he said. Brown launched a "Ban the Box" campaign to eliminate "Yes" and "No" checkboxes and the question "Do you have a criminal record?" from employment and other application forms. "I even know a blind person who went to a social services agency to get a Seeing Eye dog who was asked if he had a criminal record," Brown said in utter disbelief.
Stewart wants to mobilize returning citizens to become active in the electoral process. "I want to reach those who say 'I can't vote,' or 'My vote doesn't count,'" he said. "We want our conditions to get better, so we have to support (elected officials) who (are accountable) to us." The District government doesn't do enough to help returning citizens, he said.