'Returned' Citizen Helps Others Register to Vote
Margaret Summers | 7/31/2013, 3 p.m.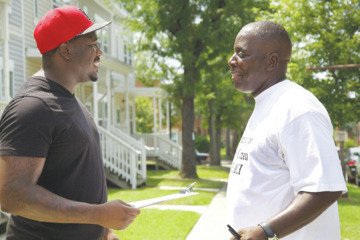 Voting demonstrates that returning citizens want to improve their neighborhoods as well as their own lives, Stewart said. "More than 60,000 District residents have a criminal record. We are reliable, dependable, non-violent human beings. But communities look at us as having torn them down doing things we weren't supposed to be doing. We have to adjust ourselves and build our communities."
A 2011 Florida Parole Commission study found that returning citizens with restored civil rights are less likely to go back to prison. According to Nonprofit Vote, a nonpartisan voter advocacy group based in Boston, Mass., most states will allow returning citizens to vote after serving their sentences. But 12 states, that include southern states where racial and language minorities' voting rights were protected under the Voting Rights Act, bar them from voting if they committed certain crimes.
Stewart is concerned about the impact a Voting Rights Act made weaker by the recent U.S. Supreme Court ruling, could have on returning citizens. "As soon as you start educating people, and they start to have some power (through voting), you have people who don't want them to have power, especially (if those people live in) the D.C. 'colony,'" he said.
Returning citizens can contact Stewart at (202) 491-3657 for information on future registration events. His organization will conduct voter registration at the Verizon Center on Friday, Aug. 2 outside the "America's Most Wanted" concert. "It features three famous rappers who are all returning citizens," said Stewart. "Lil Wayne, 2 Chainz and T.I."