Senate Approves Deal Reducing Student Loans
Rates Had Doubled When Congress Failed to Act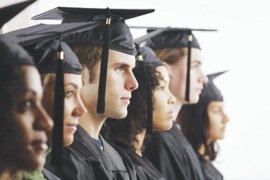 College students really can double their pleasure now.
After Congress failed earlier this month to reach a deal on a spending plan, the Senate on July 24 finally approved a bipartisan deal that would tie interest rates for college student loans to the financial markets, a move that the Capitol Hill consensus believes will resolve once and for all the dispute that caused the rates to double on July 1.
"This compromise is a major victory for our nation's students," said President Barack Obama. "It meets the key principles I laid out from the start: it locks in low rates next year, and it doesn't overcharge students to pay down the deficit," Obama said.
The president said the deal is a better bargain for the middle class.
Obama said the deal rolls back the July 1 rate hike, which doubled the loan rate from 3.4 percent to 6.8 percent. The new deal saves undergraduates an average of more than $1,500 on loans they take out this year.
The latest measure, which still has to pass the House, would replace the fixed-rate subsidized federal student, or Stafford Loan, program.
Republicans in the Senate voted 81-18 in favor of the plan while many Democrats remained skeptical of the bill
Some Democrats said the agreement betrays the party's promises made to working-class families because interest rates on student loans would be tied to the volatile financial markets.
"What I don't understand is when you have a Democratic president, and a Democratic-controlled U.S. Senate, why are we producing a bill which is basically a Republican bill," said Sen. Bernard Sanders (D-Vt.).
The government stands to reap nearly $200 billion over the next 10 years because of the higher rates, said Sen. Elizabeth Warren (D-Mass.) "This is obscene. Students should not be used to generate profits for the government," Warren said.
Although members of the Congressional Black Caucus (CBC) had voiced concerns about the potential of loan rates doubling, a spokesperson for the CBC said its members currently had no additional comment.
After Congress failed to reach a deal on July 1, CBC Chair Marcia Fudge, 60, said the House had a responsibility to ensure that federal assistance for education is both accessible and affordable. She said the proposal to double the rates would force students and their parents to pay exorbitant interest rates on the loans.
"The bill is being used as a tool to pay down the deficit while there are other viable sources of revenue and cuts that need to be considered," said Fudge, (D-Ohio).
Obama had pressed lawmakers for a fix regarding rates on student loans.
Administration officials estimated that the new plan would help 11 million borrowers who will take out loans in 2013 to attend college. The rates would apply retroactively to those who borrowed since July 1.
Under the new rate structure, loans to undergraduates, graduate students, and their parents would be subject to a fixed rate tied to the 10-year Treasury note.
Rates for loans taken out after July 1 of this year would be 3.9 percent for undergraduates, 5.4 percent for graduate students and 6.4 percent for those receiving PLUS loans – federal loans that graduate or professional degree students and parents of dependent undergraduate students can use to help pay education costs.
The rates would be fixed over the life of the loan.
A cap has been set on all loans, 8.25 percent for undergraduates, 9.5 percent for graduate students and 10.5 percent for PLUS recipients.
"At least now they're ready to put their partisan political fix aside and join President Obama and congressional Republicans in enacting real, permanent reform for all students," said Senate Minority Leader Mitch McConnell (R-Ky.).