Tracy Martin: 'Turning a Negative into a Positive'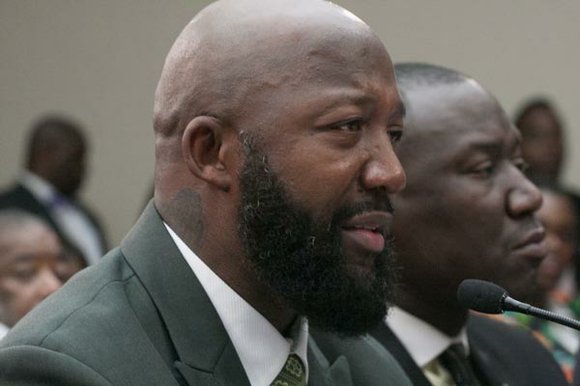 The father of Trayvon Martin recently joined a distinguished panel of African-American leaders in Washington, D.C., where he implored members of the Congressional Caucus on Black Men and Boys (CCBMB) to convey to Congress, that he and other members of the Congressional Black Caucus will continue to be the voice of the slain youth.
Martin, who received a standing ovation during the CCBMB-sponsored forum titled, "The Status of Black Males: Ensuring Our Boys Mature into Strong Men," held July 24 at the Rayburn Office Building on Capitol Hill, added that his son's death calls for profound conversations to prevent other innocent black males from meeting Trayvon's fate.
"Just to think that [Trayvon's] life would be taken is heartbreaking," said Martin, who was accompanied by his attorney Benjamin Crump. "It's something you never get over. [But] this calls for dinner-time conversations to [determine] how the same thing can be stopped from happening to someone else's child," said Martin, 46. "[With the creation of the Trayvon Martin Foundation] we're taking a negative and turning it into a positive. It's all about what we can do as a nation, and as a people, to stop someone else's son from being killed."
Trayvon, 17, was shot and killed by then-Neighborhood Watch guard George Zimmerman on Feb. 26, 2012, while walking in the gated Sanford, Fla., community where his father lived. On July 13, Zimmerman was acquitted of murdering the unarmed teen.
The forum which lasted nearly two hours and attracted more than 200, also focused on teaching young black males – who are often stereotyped from the time they first enter school – to develop their own identities.
"We don't want a society that defines [our African-American boys], but a society that allows them to define themselves as individuals," said Congresswoman Eleanor Holmes Norton (D-D.C.), who joined Democratic Rep. Danny Davis of Illinois, in convening the gathering.
In addition to Martin and Crump, the panel included Kweisi Mfume, former NAACP chief executive officer and a former Maryland congressman, David Johns, executive director of the White House Initiative on Educational Excellence for African Americans, and Michael Eric Dyson , sociology professor at Georgetown University in Northwest Washington, D.C.
Martin and his son's mother, Sybrina Fulton, 47, established the nonprofit Trayvon Martin Foundation which promotes non-violence in March 2012. It's headquartered in Miami.
Martin said his family has been hurt by the "demonization" of his son's name. He said that while he and Fulton established the foundation to carry on their son's legacy, "Stand Your Ground" laws across the country need to be amended.
In addition, he said that creation of a Trayvon Martin Act would be a good start for ensuring that other "Zimmermans" won't be able to arbitrarily get out of their cars and confront young boys of color.
"I will never give up fighting for Trayvon and other black and brown boys," a visibly-moved Martin said.
Johns described young black males among the nation's most vulnerable and neglected, adding that neither their zip codes nor skin tones should impede their quality of life. He said his office is committed to developing and endorsing programs and policies aimed at improving all aspects of the lives of young African-American males.