Uniontown Bar & Grill Signals Changing Anacostia Community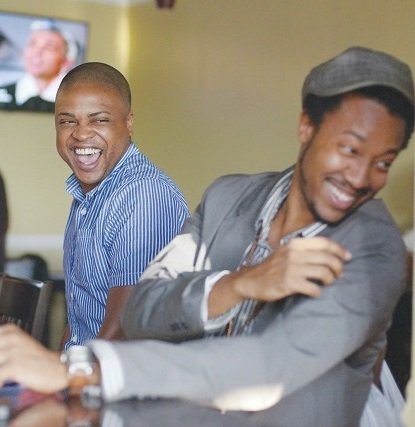 One week after its soft opening, Ward 8 resident Anthony Tate savored the ambiance and camaraderie of Uniontown Bar & Grill.
The mid-July debut returned the only traditional sit-down restaurant in the Historic Anacostia neighborhood to area residents.
"It's very important, especially for this neighborhood, for the fellowship," said Tate, a 50-year-old case manager for the D.C. Department of Youth Services. "Fellowship is one of the most important things. This place provides common ground after work. It doesn't matter who owns it, people will come."
Tate and others patrons say Uniontown is an important part of Anacostia's revitalization. Many hope its presence marks another step in the rebirth of an area that is overdue for uplift.
Patrons were upbeat.
"It being here is very important. It's the first of its kind and gives a lot of us who're looking to go out and be social a place to go," said Nicole Garner, an accountant who lives nearby. "It means we're well on our way to having more establishments like this in this neighborhood."
"I've seen change and I think it's good for the community. Crime is down and we're showing that people want something different from what we've had in the past. This is a change in the right direction."
Patrons lined the bar, while others sat at tables in twos and threes; some were eating meals, and others sipped on beer, spirits and wine. Rhythm and blues music played softly in the background while a muted television set aired the evening news. The tempo of the chatter ebbed and flowed, intermingled with laughter.
Uniontown co-owner Gabriel Tripodo moved from table-to-table greeting each guest, a broad smile and a firm handshake accompanying each personalized welcome.
Tripodo, who has had his hand in a range of business ventures in the District of Columbia and Seattle, Wash., for the past 18 years, said he opened the restaurant because he firmly believes in the promise the area holds.
"The area is changing fast. I've been here since 2008 and it's changing fast," said Tripodo, an Eritrean-Italian who has lived in the U.S. since 1990. "There are new people, a new crowd and a lot of professional people. The area is looking nice and clean now."
The menu, he said, is Bistro American and includes steaks and salmon, but no fried foods.
"We actually opened on July 17 and we've done very well," said Tripodo, of the 1,600-square-foot space located at the corner of Martin Luther King, Jr., Avenue and W Street, S.E. "I didn't want to advertise yet because I didn't want to be overcrowded. I'm really excited. The community is happy to see us here."
Tripodo anticipates more business and attracting greater numbers of patrons when he converts the upstairs space.
"Upstairs is under construction but when it's done, it will have live music such as jazz and rhythm and blues and comedy. It will be a nice lounge," he said. "It should be ready in a couple of months."
Tendani Mpulubusi-El, 31, said he's excited about the possibilities.