Bill Clinton, Eric Holder to join NAACP for Medgar Evers fete
WI Web Staff | 6/3/2013, 1:53 p.m.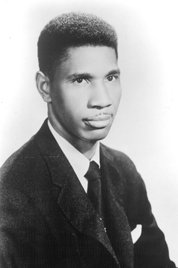 Medgar Evers will be honored by the NAACP on Wednesday during a wreath-laying ceremony at the late civil rights leader's burial place in Arlington National Cemetery.
The event, which is to commemorate the 50th anniversary of Evers' assassination in 1963, will feature remarks by Evers' widow, Myrlie, as well as former President Bill Clinton, Attorney General Eric Holder and NAACP President and CEO Benjamin Todd Jealous.
Evers, who became the NAACP's first field officer in Mississippi in 1954, was assassinated June 12, 1963, in his driveway after returning from an integration meeting with NAACP lawyers.
His murder occurred just hours after President John F. Kennedy's speech on national television in support of civil rights.
Evers, who served in the Army, was buried a week later in Arlington, receiving full military honors in front of more than 3,000 people.