Brown Picks Ulman as Running Mate in Md. Governor's Race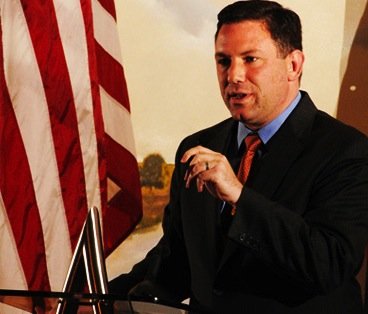 Less than a month after announcing his bid for the governor's seat in 2014, Maryland Lt. Gov. Anthony Brown has chosen Howard County Executive Ken Ulman as his running mate.
Ulman, 39, who will be in the race for lieutenant governor, has led Howard County since 2006.
"As lieutenant governor, Anthony Brown grew our economy and created jobs in the face of the great recession, and I'm honored to stand with him in this campaign to build a better Maryland," said Ulman. 
Brown has served two terms representing Prince George's County in the House of Delegates and is now in his second term as lieutenant governor. He praised Ulman's track record of success.
"Ken Ulman has a tremendous record of leadership and results, and I'm excited to have him joining our campaign to build a better Maryland for more Marylanders," said Brown.  "On Ken's watch, Howard County has become an engine for job creation and education, and there is no doubt that he is the right leader to serve as our next lieutenant governor," he said. "I'm running for governor to build on our successes and continue growing our way to economic prosperity and I am proud to have Ken Ulman making this journey with me."
Ulman, who reportedly has had gubernatorial aspirations of his own, agreed with Brown on the need for continued growth.
"Maryland is a great place to live, work and raise a family, but we know that it can always be better," said Ulman. "Together, we'll work to ensure economic prosperity for all of our families and build strong communities by growing our economy, creating jobs, building the most competitive workforce and developing our state's business community."
Under Ulman's leadership Howard County has boasted the lowest unemployment rate in Maryland. In addition, local schools have been ranked No. 1in the state and two prominent magazines rated the county as one of the best places to raise a family and in which to live, according to a Brown campaign statement.
The Brown/Ulman ticket has already received an endorsement from Congressman Elijah Cummings.
"Anthony Brown and Ken Ulman are the best team to build on our successes and make Maryland a better place for all of our families," said Cummings.
Meanwhile, another contender for the governor's office has joined the competition. Harford County Executive David R. Craig tossed his hat in the ring on June 3 in Havre de Grace, Md. Craig, who is in his second term as county executive, is also president of the Maryland Association of Counties.