Jason Kidd retires from NBA after 19 seasons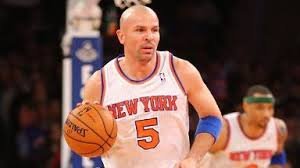 Jason Kidd, a 10-time All-Star and two-time Olympic gold medalist, retired from the NBA on Monday after 19 seasons, ending a likely Hall of Fame career as one of the greatest point guards in league history.
Kidd, who won an NBA title with the Dallas Mavericks in 2011, signed a three-year deal with the New York Knicks before this season. But he struggled mightily in the postseason shortly after his 40th birthday and decided to hang up his sneakers with two years and more than $6 million left on the contract.
"My time in professional basketball has been an incredible journey, but one that must come to an end after 19 years," Kidd said in a statement released by the Knicks. "As I reflect on my time with the four teams I represented in the NBA, I look back fondly at every season and thank each and every one of my teammates and coaches that joined me on the court."
His announcement comes two days after fellow 40-year-old Grant Hill announced his retirement. In 1995, the two shared Rookie of the Year honors.
Kidd averaged 12.6 points, 8.7 assists, 6.3 rebounds and 1.9 steals for his career. He ranks third all-time in triple-doubles (107) and 3-pointers made (1,988) — a specialty he developed after being deemed a poor perimeter shooter upon his arrival in the league.
He was named to the All-NBA first team five times and finished second on the career list in assists and steals, behind John Stockton.
Kidd, who was drafted second overall by the Mavericks, changed the fortunes of every team he played for, most notably the New Jersey Nets, which he led to two straight NBA Finals in 2002-03. Though in the twilight of his career, he also played a major role in the Dallas Mavericks' 2011 championship run.
In his lone season with the Knicks, the franchise won 54 victories and its first
division title since 1994 — the year before Kidd was drafted — as well as its first playoff series victory since 2000.
Dirk Nowitzki, a teammate of Kidd's on the Mavericks' championship team, called him was "one of the best point guards ever and one of the fiercest competitors I have ever played with."
"Amazing career," Nowitzki posted on Twitter. "He always put the team and winning first. All the best to him in retirement."