Obama Picks D.C. Circuit Court Nominees, Blasts GOP 'Obstruction'
WI Web Staff | 6/4/2013, 11:55 a.m.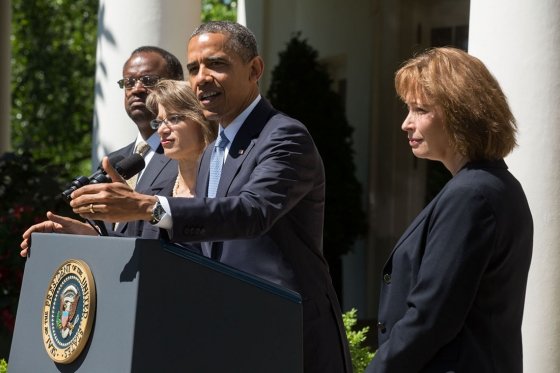 President Barack Obama on Tuesday nominated three candidates — including a prominent African American judge — to the D.C. Circuit Court of Appeals while lambasting Senate Republicans' "political obstruction" in slowing his nominees' confirmation.
Judge Robert Wilkins, who was nominated by Obama to the D.C. District Court in 2010, joined Patricia Ann Millet and Cornelia Pillard as the president's picks to fill the three vacancies on the Circuit Court.
During an announcement at the White House for the nominees, Obama, who initially faced four vacancies on the Court before getting one of his selections confirmed late last month, voiced his frustration with what he considers stall tactics by his political opposition.
"Time and again, congressional Republicans cynically used Senate rules and procedures to delay and even block qualified nominees from coming to a full vote," Obama said Tuesday. "As a result, my nominees have taken three times longer to receive confirmation votes than those of my Republican predecessor.
"This is not about principled opposition. This is about political obstruction," he said.
Senate Republicans have been slow to approve Obama's judicial nominees, including his initial pick for D.C. District Court, Manhattan prosecutor Caitlin Halligan. In March, Halligan requested her nomination be withdrawn after years of unsuccessful confirmation attempts.
Obama's second nominee, Sri Srinivasan, won confirmation late last month. Srinivasan, who was the U.S.'s principal deputy solicitor general, had bipartisan appeal, having worked with both Obama and George W. Bush.
"I'm glad Republicans chose not to play politics and obstruct Sri's nomination the way they did with Caitlin's," Obama said Tuesday. "And I'm hopeful that we can now build on that progress, because Sri's confirmation was the first to the D.C. Circuit in seven years."
Wilkins, a graduate of Harvard Law School who helped establish the Smithsonian National Museum of African American History and Culture, was a partner in a D.C. law firm before serving as a federal judge.
Millet worked in the solicitor general's office during both the Clinton and George W. Bush administrations before joining private practice. Pillard served two stints in the Department of Justice and was an attorney for the NAACP Legal Defense and Education Fund.