African Americans Disproportionately Affected by Disasters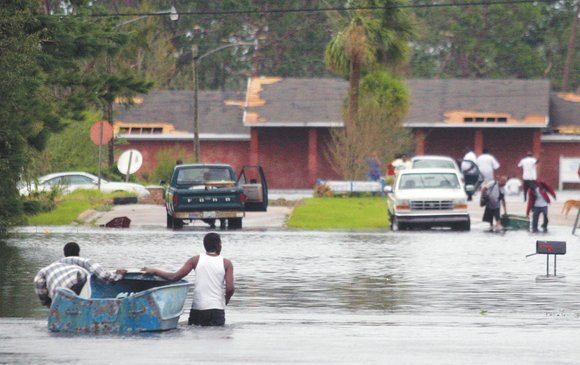 "We've been treated badly and unfairly. But, we still need to prepare for emergencies a whole lot better than we are doing now," Stevenson added.
Last month's Oklahoma tornado was a reminder that the frequency of natural disasters has increased in the country, even in Washington, D.C., where recent storms and events include the 1993 blizzard known as the "Storm of the Century," a 2006 Mid-Atlantic Flood that caused severe damage, and a 5.8 magnitude earthquake which rocked the nation's capital in 2011.
"People should have their important papers and items close by so they can pick them up and take them," said Nancy Blaschak, a regional chief executive officer for the American Red Cross in Western, N.Y.
"You need to know where would you go, where's a safe place. The idea is that you (easily) can grab things and run out, and you don't have to worry about anything else," Blaschak said.
In the aftermath of the Oklahoma tornado, which resulted in the death of 24 people and countless injuries, Federal Emergency Management Agency (FEMA) officials said they are working hard to help victims.
"It's unfortunate that we are once again seeing what tornadoes can do. Preparedness is and should always be a priority," said FEMA director Craig Fugate
One reason many aren't prepared is the perception that preparing might be too much of a financial strain, said Paul Purcell, a terrorism and natural disaster preparedness trainer and author of the book, "Disaster Prep 101."
"This is the fault of marketers who are constantly trying to push outdoor survival as the preparedness plan people should have and who are trying to sell unnecessary and high-priced equipment," Purcell said. "Civilians see this hype and feel that they can't afford all the gear and so they don't bother trying."
Finances play a role in the lack of preparedness, particularly for blacks.
Kim Fuller, a media specialist for the Northwest Washington, D.C. disaster management company, Witt/O'Brien's, said studies have shown that people are overwhelmed by the long list of supplies that many entities suggest.
"We recommend that you take two immediate steps. Know how to communicate with your family when there is a disaster and know a place to meet if your home or neighborhood is no longer accessible during a disaster," Fuller said.
Officials at the District of Columbia Homeland Security and Emergency Management Agency (HSEMA) said residents shouldn't wait until the last minute to prepare and preparations should be made for the first 72 hours following a disaster.
HSEMA officials recommend an Emergency Go Kit, which consists of a three-day supply of water, three-to-five day supply of non-perishable canned food, and a non-electric can opener.
Other essentials include a flashlight, battery-powered radio, extra batteries, a First-Aid kit, and prescription medications for at least one week, cell phone chargers, blankets, rain gear, clothing, identification and photocopies of important family documents.
"Keep the electronic gadgets charged," Begal said.
"If there is a prolonged power outage, how will you charge all those electric gadgets that you have come to rely on? Consider a power strip that has a cigarette plug so that you can charge a laptop, blackberry, or cell phone in your car without running down the battery. Have a generator handy and have different cell service providers for different family members because if one company cell towers are knocked out, you could be out of business," he said.
Vaughn said residents should keep an available sum of money, mostly in small bills, because many disasters prevent ATM machines from working and grocery stores may not be able to accept bills larger than $20.
She echoed FEMA's advice.
"Everyone should have an emergency plan and expect to be on their own for at least three days. A disaster kit, which doesn't cost a lot, should contain food, basic medical supplies, whatever prescriptions you may need, extra clothes, a flashlight, a battery-powered radio and extra batteries," Vaughn said.