Capitol Hill Hardware Store Ravaged by Four-Alarm Fire
6/5/2013, 11:17 p.m.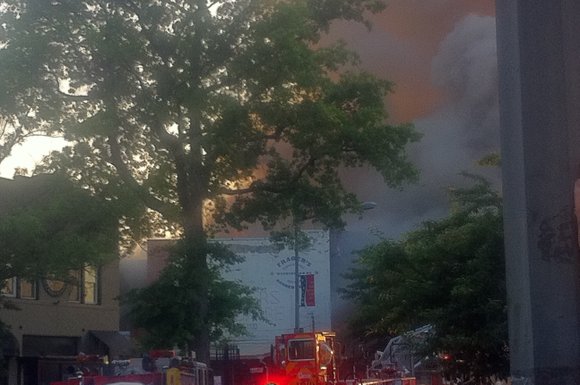 A four-alarm fire late Wednesday evening ravaged Frager's Hardware, a renowned Capitol Hill institution established more than 90 years ago.
More than 200 firefighters responded to the Pennsylvania Avenue store to attempt to extinguish the blaze, which raged late into the evening and could be seen from as far away as Virginia.
Fire officials said they didn't believe the fire was toxic but encouraged onlookers to leave the area for their safety and nearby residents to keep their windows closed.
All the store's employees escaped unharmed, said co-owner John Weintraub.
"The fire started at the back of the building at the receiving area, and then it started to move really fast," Weintraub said.
Ed Copenhaver, the other owner, said the fire, which was on the 11th Street side of the building, was likely electrical.
"An employee opened the door and the fire was outside," Copenhaver said. "He shut the door right away."
Weintraub said he and Copenhaver plan to rebuild the store.
Ward 6 Council member Tommy Wells was on hand and asked the store's owners what they needed.
"We just really need to make sure the store is protected overnight," Weintraub responded.
Scores of onlookers stood on the grassy sidewalks and on Pennsylvania Avenue around the hardware store between 11th and 12th Streets, watching for several hours as flames and smoke engulfed the building.
The old-fashioned store, which sold hardware equipment, gardening tools and flowers, was a neighborhood and city favorite.
Hillcrest resident Maria Gloria said she was driving on 11th Street and saw the fire smoldering behind the store. Concerned about the home behind the building, she called 911.
"I wanted to run out to see about the house, but the police won't let anyone near," said Gloria, a Chilean immigrant who's lived in Ward 7 for 20 years. "I buy the metal covers for the stove from Frager's and one of my daughters who attended St. Peter School [on Capitol Hill] used to work there. I feel sorry for the people who've lost their jobs."
Melinda Hunter, who has worked for Frager's for more than 16 years, said employees are being told to stay at home and that "they will be called to work when needed."
Linda Luther, who works in the area, stood in front the CVS Pharmacy across the street from Frager's with her hands folded in front of her and tears streaming down her face as she watched black smoke pour from the building.
"I feel very sad today," Luther said. "I love Frager's. I always tell people not to go to Home Depot, you can find all you need here. Never in a million years did I ever think I'll see Frager's burn down."