Education That Goes Beyond School Walls
6/5/2013, 4 p.m.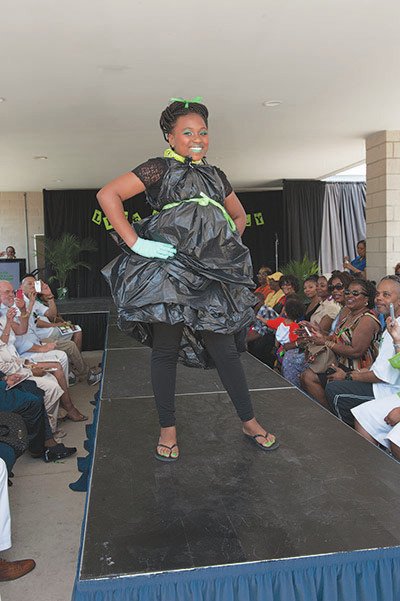 On an unseasonably warm first day of June, more than 30 children and teenagers strutted down a runway using a "green" theme for their fashion extravaganza in Southeast before an audience of family, friends and lots of well-wishers.
The models, tennis scholars with the Southeast Tennis and Learning Center (SETLC) in Ward 8, presented "Runway Youngins' Go Green," sixth annual fashion show. The program was as much about the green message on protecting and saving the planet, as it was about the fashions and the designs.
"This is an opportunity for the kids who come to learn tennis, but who are pushed out of their comfort zone to learn something new," said D.C. Department of Parks and Recreation's director, Jesús Aguirre, whose agency oversees the SETLC. "The (SETLC) program tries to hit all areas of development and I credit it as offering real opportunities here." He said this year's theme of "Go Green," aligns perfectly with the Department of Parks and Recreation's agency-wide "Move. Grow. Be Green." initiative.
The models who ranged in age from 7 to 17, sashayed on the outdoor catwalk to loud applause and approval. Their first offering, "Goin' Green," featured the models dressed in large black garbage bags designed in a variety of styles. Florescent green and other shades of green adorned their finger and toe nails, sneakers, sandals, shoe laces, wigs, eye makeup and lipstick.
Fashion designer, Janice Rankins, who's been in the industry for more than 40 years, leads the Sew 'N Know Entrepreneurship program, one of several academic enrichment courses that SETLC offers to tennis participants.
"I start the children off simply by teaching them how to thread a needle and how to develop a pattern," said Rankins, 62, a Department of Parks and Recreation specialist who conceived, and has been doing the Sew 'N Know program for more than 15 years as an aftercare program and during the summers at various recreation centers around the city.
It's also a program that allows participants to sell what they've designed. This teaches marketing and business skills, and the tennis scholars can hone their academic abilities as they put math skills to good use, said Rankins, a California native, who became the designer and fashion consultant to former D.C. mayor, Marion Barry, and former first lady, Cora Masters Barry.
"This is how I started, I started at this age," said Rankins pointing to children who were under 10. "And it's been good to me." Before moving to the District in 1994, Rankins dressed actors in various television comedies such as "Good Times," "Gimme a Break!" and "227."
Masters Barry, the founder and chief executive of the Recreation Wish List Committee and the SETLC, said that educating and transforming youth into leaders, is her passion.
"They're the reason why I get up in the morning," said Masters Barry, 68, who added that each year the scholars used themes that highlighted some message. Last year they invoked the image of Trayvon Martin, the Florida teen who was shot to death on Feb. 26, by a neighbor. "They all wore hoodies in the show. It was very topical, very informative and educational as education is a major component for this program."
Besides the fashion designs by Rankins, Zakariya Gordon, a guest designer and the tennis participants, the fashion show also featured a speaker from the D.C. Department of the Environment who discussed storm water drainage. Also featured in the fashion show were the young actors who participated in the Blacks in Wax portrayals, a Masters Barry brainchild, that began seven years ago as a way to educate youth about African-American history.
Young actors dressed like Mayor Vincent C. Gray, first lady Michelle Obama, Congresswoman Eleanor Holmes Norton along with an air quality expert from the Environmental Protection Agency, Gina McCarthy addressed the crowd about living a healthier, greener existence. Before the show ended, the audience was treated to a lip-sync performance by Drai Faulk, who wowed them with the song "Save the Children," by the late Marvin Gaye.
Rankins added that her work has created a visual and performing sanctuary of learning and growth for all bright young people, especially those having difficulty in succeeding in a traditional school atmosphere.
"By starting with design, my students are learning to visualize themselves in the future," said Rankins. "In doing so, they're learning how to make a goal and stay on track."