Graduation Costs Take Toll on Students, Families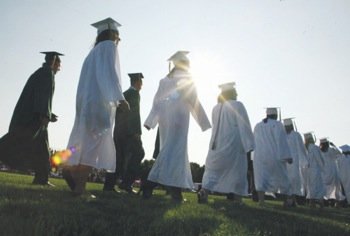 Ronaya Hall is excited that the day she's most looked forward to since elementary school — her high school graduation — is just around the corner.
But the 18-year-old who attends Ballou Senior High School in Southeast, feels overwhelmed with the costs involved making June 13, the memorable occasion most of her peers are anxiously looking forward to as well.
"I've got a $200 class fee to pay. The prom is on June 7, the tickets are $75 a piece and I still don't have my dress," an exasperated Ronaya said.
"Plus there's $50 for a senior trip and another $55 trip,"she said. "To be honest, I want to go on one or both, but money-wise, it's time to crack down on the prom. I still have a little over $100 more to pay on my dress, so I don't have the extra money."
Ronaya's mother is deceased and she has no relationship with her father. As a result, she shares a home in Southeast with her older sister.
But her sister has two young children to care for, so Ronaya has sought employment to help pay for graduation expenses.
"There's just so much my sister can do to help me out," said Ronaya. "Being a graduating senior is fun, but it also takes a lot of hard work – and money."
Today' high school graduations can put a significant strain on the pocket book. And, in addition to the concerns Ronaya rattled off, buying caps and gowns, yearbooks, class rings and senior photos can also quickly exceed $1,500.
Three weeks ago, Paulette Abernathy of Columbia, Md., was trying to figure out how to ensure her son Jason would have a memorable graduation.
She said however, that Jason who graduated May 29 from Wilde Lake High School, decided to save money by skipping the prom.
"I hated that he chose not to go, but he wanted to put that money, which would have amounted to $600, toward his college expenses," Abernathy, 38, said.
She said that aside from prom expenses, there was a matter of making sure other graduation items were paid for.
"It was all about the invitations, his class fees, cap and gown, the senior pictures and things like that," Abernathy said. "He has a job that enabled him to pay a lot of his own expenses, [which] came to [more than] $500. I still want to throw a party for him, because afterall, high school graduation – even if it doesn't come cheap – is one of those once-in-a-lifetime experiences."
A report that was commissioned by Visa revealed recently that sending a graduating senior to the prom costs an average of $1,139.
Mable Neville and her daughter Vinsha, agreed, saying that they rounded their bill off to about $1,500.
"There's so much involved," said Vinsha, 17, who graduates on June 13 from Hayfield Secondary School in Alexandria, Va. "I've had to get ready for the prom [which meant] selecting my dress that cost $180, shoes and accessories. I also had to get my prom tickets which cost $55 each, pay $80 for my senior fees, $60 for the yearbook, $80 to $100 for the class trip – and of course, I have to have my hair done," Vinsha gushed.