Housing Tour's Focus is Affordability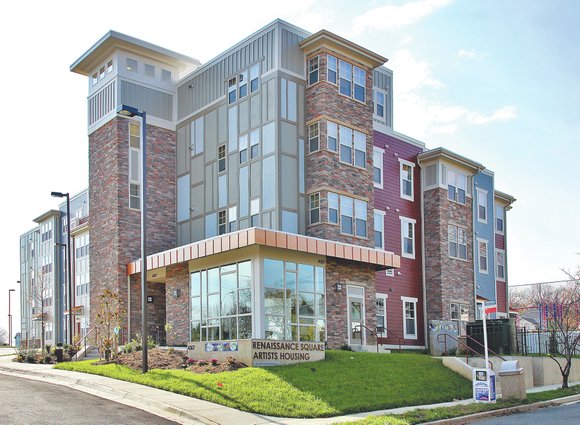 A tour of homes usually features high-end properties with lavish furnishings. But a recent tour of homes in Prince George's County had a different focus – affordability.
The Prince George's County Department of Housing and Community Development (DHCD) partnered with Communications Action Network (CAN) and non-profit developer Housing Initiative Partnership (HIP) to host a Parade of Homes during the latter part of May. The event featured 17 communities throughout Maryland, Washington, D.C., and Northern Virginia.
"We are hoping that, by opening our doors around the region to showcase the lovely and affordable properties we've created, we can eradicate the negative stereotype of affordable housing as 'the projects,'" said Maryann Dillon, executive director of HIP. "Our properties are beautiful homes for people with more modest incomes who take pride in where they live."
In Prince George's County, about 30 individuals came out to tour Renaissance Square, a 44-unit, green, affordable apartment community in Hyattsville. Designated as a residence "for artists of modest means," the property has "artist friendly" amenities including a high ventilation work room, music practice room, dance studio, art gallery, bicycle storage room, fitness room, and two rooftop patios overlooking green roofs.

Rents at Renaissance Square range from $348 a month to $755 a month for a one-bedroom unit to $400 to $929 per month for a two-bedroom unit, depending on the income of the household.
"The challenge for low- and moderate-income employees to find housing that is affordable is growing," said Michelle Krocker, executive director of the Northern Virginia Affordable Housing Alliance, and one of CAN's founders. "These workers maintain jobs that are vital to our economy and our quality of life in the metropolitan area."
Launched in response to the current and growing shortage of housing that's affordable to a variety of income levels, CAN is a coalition of more than 150 businesses, nonprofits, faith-based organizations and individuals dedicated to sharing research and success stories that promote the positive impact housing affordability has on the economy for both employers and its workforce.
The tri-area event featured single-family homes, multifamily rental housing and homeownership communities.
"Developing and preserving is a county priority," said Eric C. Brown, director of Prince George's County DHCD. "The Parade of Homes event gives the public a tangible image of what affordable housing can be." There's a stereotypical image that affordable housing doesn't have good design, amenities and isn't energy efficient, he said.
Prince George's housing officials said that there are 249 apartment communities classified by the state as affordable to lower-income households in the county. The website MDHousingSearch.org is a search tool for finding these properties that include residences for families, persons with disabilities and seniors.
Currently HIP has developed two other affordable apartment communities in Prince George's County: HIP's Artists' Housing in Mt. Rainier and Newton Green Senior Housing in Bladensburg. And there are others being developed. The county's housing department is in the process of reviewing three
affordable housing developments and anticipates that two or three more will be added to the pipeline. Asked if there is an adequate supply of affordable housing in the county, Brown said it depends.
"In some areas there's enough affordable housing, in other areas there is not enough," said Brown.
The challenge is being able to preserve affordable housing in key areas where there's mass transit, he said.