LETTERS TO THE EDITOR: The Power of the Ballot
6/5/2013, 4 p.m.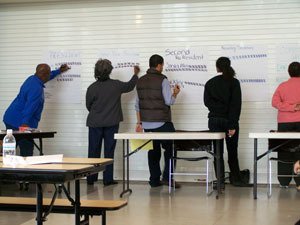 After reading the article "Opponents of School System Changes Collect Petitions," by Gale Horton Gay, I just can't understand why we are so quick to hand over to an individual something revered and so sacred in this country, the right to elect someone with the ballot. And believe me when I say it is only happening in our community where so many of our forefathers died just so we could have that right.
Just check out what has happened over the past few years in the District of Columbia – the school board has limited power and the mayor selects its leaders. I am in complete support of the Citizens for an Elected Board and its fight against Prince George's County Executive Rushern Baker's control of the school system. They are absolutely right: It's too much power, and when a politician has that much power anything can happen, sometimes good, but most of the time bad.
Michelle Fisher
Landover, Md.
Support Youth Baseball in D.C.
Summertime means baseball and I want to see more baseball stories in the Washington Informer, especially stories about our young people playing this wonderful game. I will give you credit for the photo spread on the Nationals Youth Baseball Clinic in the May 30th issue, but you can do more.
There must be countless stories about some of our young, up and coming stars playing on teams around the region that we need to hear about. Who knows, we might have the next Frank Robinson or Willie Mays playing on a 14-and-under team right here in our own community.
When young people see themselves in the media for doing positive things it encourages them to continue doing good things. Let's get behind the Washington Nationals Baseball Team in their attempt to foster this great game throughout the whole area, including Washington D.C.
Aaron Valentine
Washington, D.C.