Md. Students Track Plants, Animals with Mobile Devices During First 'BioBlitz'
WI Web Staff | 6/5/2013, 8 p.m.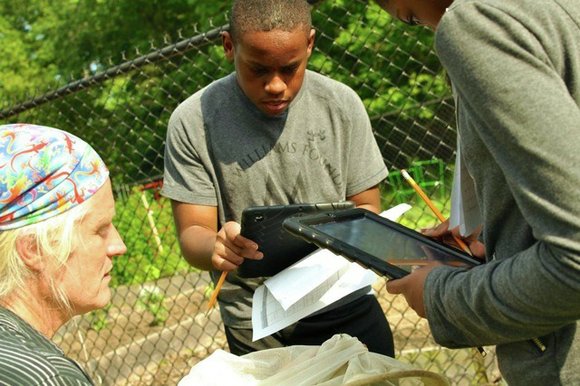 Students at Charles Carroll Middle School in New Carrollton, Md., participated in the school's first "bioblitz" Wednesday, part of a nationwide initiative to increase the use of mobile devices in the classroom.
The 7th- and 8th-graders were able to observe and identify numerous living species of plants, animals and insects in the area near their school, which is part of the Chesapeake Bay watershed.
With the help of event sponsors National Geographic Education, the American Association for the Advancement of Science and the Verizon Foundation, the students worked with scientists and employed mobile devices to identify and archive species using mobile apps and online tools.
"Mobile technology is a critical component of a bioblitz because it allows students to learn in real-time, when their interest is high, with the help of scientists and naturalists around the world," said Justina Nixon-Saintil, the director of education for the Verizon Foundation. "For example, students could take photos of leaves with their smartphones, and the Leaf Snap app suggests the types of trees the leaves are part of."
A "bioblitz" is an event in which teams of volunteer scientists, students, teachers and others attempt to find and identify as many species of plants, animals, microbes, fungi and other organisms as possible, usually within a period of 24 hours or less.
The school's bioblitz is part of a pilot program with the goal of supporting teachers and students in a smaller-scale biodiversity count.
Charles Carroll is one of 12 schools chosen from across the nation to participate in the Verizon Innovative Learning Schools program. The initiative includes an intensive professional development program for teachers that focuses on the use of mobile devices in the classroom to teach science, technology, engineering and math.