Medgar Evers Honored by Bill Clinton, Others
James Wright | 6/5/2013, 8 p.m. | Updated on 6/12/2013, 3 p.m.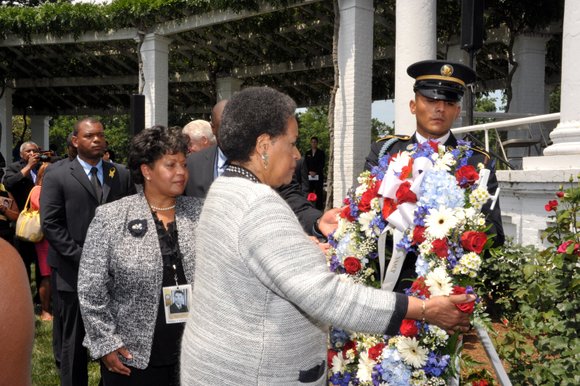 "He answered freedom's call. However, when Evers returned home another war was raging," said Bryant, 58. "He fought a fight to create a brighter future for all Mississippians."
Bryant said that because of Evers, heads do not need to be bowed in shame at the mention of the word Mississippi.
U.S. Secretary of the Navy Ray Mabus, who served as governor of Mississippi from 1988-1992, said that he never knew Evers but greatly admired him.
"My life was changed unalterably because of him," Mabus said. "He took on the wrongs of the Jim Crow South in a principled and non-violent fight."
Mabus, 64, was instrumental in the recent naming of a naval vessel in honor of Evers.
Jealous said that Evers, who was buried at the famed cemetery several days after his death, sacrificed his life for freedom and the country is better off because of it.
U.S. Sen. Roger Wicker (R-Miss.) and U.S. Rep. Bennie Thompson (D-Miss.) spoke at the ceremony, while U.S. Reps. Maxine Waters (D-Calif.), Bill Foster (D-Ill.) and Greg Harper (R-Miss.) listened to the remarks. Holder, 62, said that Evers' memory will "bear us up and push us forward."
Myrlie Evers-Williams, 80, said that while her husband would have been satisfied with a wreath-laying ceremony in his honor, he would call on those in attendance to take action.
"Medgar would have said that 'I believe in America,'" she said. "He would have told you all to get out there and prove you believe in me."
Clinton said that Evers' life and work should be a lesson to young people.
"If you have to look for the control side and the cooperative side, be sure to choose the right side," he said.