New York Youth Aces Scripps Spelling Bee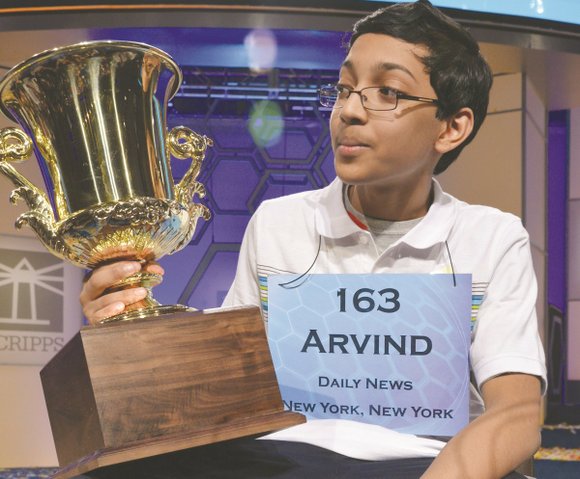 A tiny mass of fermented dough has led to a lot of "dough" for a Queens, N.Y., student who's been declared the winner of the 86th Scripps National Spelling Bee.
In a tense moment during the final round of this year's event at the Gaylord Hotel and Resort at National Harbor, Md., Arvind Mahankali, correctly spelled "knaidel," a German word. As a result of his spelling acumen, Arvind who is Indian American, was catapulted to national fame with a $30,000 cash award, championship trophy and a $2,500 U.S. savings bond from Merriam-Webster. He also received $2,000 worth of reference books from Encyclopedia Britannica.
"I didn't know this was really going to happen," said the calm and collected 13-year-old. "The words were extremely hard. I thought that the German curse had turned into a German blessing," he said, referencing some of the difficulty he'd encountered with German words during practice sessions.
However, when asked what winning the event meant, Arvind jokingly responded that he planned to retire on a good note. "I'll spend the summer, maybe entire days, studying physics," he said, flashing a wide grin.
Arvind, who was sponsored by The Daily News, was one of 11 students who took to the Maryland Ballroom stage on May 30 in the championship finals.
As he and his competitors sought to control their jitters, Executive Bee Director Paige Kimbale complimented the young spellers. "You know they're going to go far in life," she told the audience of more than 1,000 excited spectators.
Arvind squared off for the title with runner-up Pranav Sivakumar from Illinois.
The nationally-televised spelling bee, which ran from May 28-30, is hailed as a three-day jamboree of words, as well as a fun-filled and adventurous family affair.
But during spelling performances, tensions tended to run high as the contestants sat under the glare of bright lights waiting to take center stage.
Once they stepped up to the microphone, there was no second chance to get it right. The spellers, who wore blue identification tags around their necks, could ask announcer Jacques Bailly – who won the bee in 1980 – questions such as a word's origin, its part of speech and if there were alternate pronunciations. But one misspelling, and they were instantly booted out of the game.
Most of this year's entrants were middle school students between the ages of 12 and 14, and 97 were visiting the District of Columbia for the first time.
In addition, this year marked the first time since 2008 that a male has won the contest. It's also the first time a vocabulary component was added to the competition, with officials explaining that it was necessary after they realized a significant number of students who had previously participated, had no idea what many of the words meant that they were spelling.
When the event kicked off on May 28, 281 competitors – including those from countries that included American Samoa, Guam, Puerto Rico, U.S. Virgin Islands, the Bahamas, Jamaica and China – had hoped to take home the grand prize.

Donovan Rolle, 13, counted among the group who aspired to hoist the shiny, gold trophy high in the air. He was the only speller to represent the District in the bee.

Donovan made it through to the third round before being stumped by the written vocabulary test. Prior to learning he would not move forward with 42 other competitors to the finals, Donovan – an eighth-grader who attends Howard University Middle School for Math and Science in Northwest, successfully spelled "bacciferous," which means "bearing berries."
"I felt good about having advanced [that] far," said Donovan, whose presence in the globally–watched competition was sponsored by The Washington Informer. "I prepared myself for the Scripps bee and did pretty well."