THE RELIGION CORNER: Your Body is a Temple
Take Control of Your Mind, Body & Spirit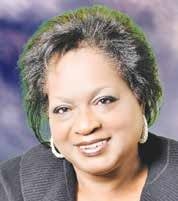 If you're a regular reader of this column, you know about the upcoming health fair that will be sponsored by my church, All Nations Baptist Church to help everyone get a better grip! It's time each of us regains control of our minds, bodies and spirits. Join us, for workshops which will leave you feeling refreshed and revitalized. The health fair will take place on Saturday, June 15 from 10 a.m. until 3 p.m.

Various health organizations plan to attend, including a new agency, United Health Care; I'm delighted they're coming. Once, I informed readers that I had been diagnosed with diabetes earlier this year, and was fortunate enough to have obtained health insurance, I chose United Health Care. This isn't an endorsement; it's just the choice that worked for me. So praise God that they intend to attend the health fair.
This week, let us continue our discussion on the good that can and will come, when we treat our bodies like temples. That's what the Bible tells us to do. If we don't treat our bodies like temples, we're going to pay a steep price at some point.
Here's a list of 15 simple things to consider, and if incorporated into your healthy regiment for living, will help to balance your mind, body, and spirit. Exercise – find a routine that you enjoy and start doing it on a regular basis. Be grateful – stop to think about the things you have going for you and appreciate them. Get plenty of sleep – rest is regenerative. Whenever you think about it, stop and take a deep breath. Over time this will become a healthy habit. Install a shower filter – chlorine is a poison. You don't want to inhale it or absorb it through your skin while showering.
Ground yourself – Literally. Plant your bare feet on the earth as often as possible, we all need to reconnect to our maker. Eat organic – chemicals are killing pests on the crops. They aren't good for you either. Do more yoga – great for the body and mind. Spend more time with loved ones – in our busy lives we need to make time for the people who matter to us most. Live your passion – do more of what you love. Drink clean water – get a filtration system for your drinking water. Fluoride is not good for your body. Get outdoors more – go for a hike and enjoy nature. Eat plenty of greens – dark leafy greens are rich in vitamins, minerals and chlorophyll. They help alkalize the body.
Meditate – set some time aside each day to rest your mind. A growing body of research indicates that meditation is good for our health.
Remember, a healthy mind, body and spirit will change your overall health and outlook on life. Let's take a look at what research proves regarding this subject. Here are some of the many beneficial effects that scientists have identified in various studies: You'll have a stronger immune system if you practice meditation. People who meditate experienced fewer winter colds and flu (Barrett et al. 2012) and produced more antibodies in response to a flu vaccine (Davidson et al. 2003) than those who did not meditate.
Lower blood pressure and reduced risk of heart disease: Transcendental meditation lowered blood pressure among African Americans with heart disease and was associated with a 43percent reduction in risk of death, heart attack and stroke (Schneider et al. 2009).
Lower blood sugar: Patients with metabolic syndrome lowered blood pressure and blood sugar and improved insulin regulation after practicing transcendental meditation for 16 weeks (Paul-Labrador et al. 2006).
Lyndia Grant is a radio talk show host, on a Radio One Network, WYCB 1340 AM; listen Fridays at 6 p.m. Call 202-518-3192; send emails to lyndiagrant@gmail.com.