SBA's Johns Takes Farewell Tour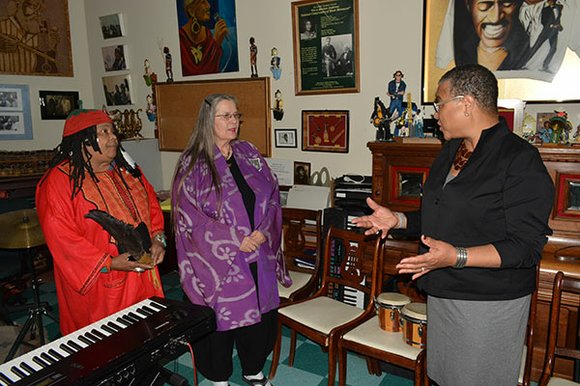 "There's enough work right here in Ward 8 to keep me busy for the rest of my life," Armstrong joked. "But we're ready to expand now. We have people in place and we want someone from the SBA to go over the paperwork with us."
Armstrong and one of his employees led Johns, Doss and other SBA employees through a warren of workshops with scanners, a fabricator, laminator, computers, drills, saws, work benches, racks and other tools for the job. The group marveled at Armstrong's use of space and the fact that he fit so much into the space at his disposal.
"You do a great job maximizing the space," Doss said.
Johns agreed.
"I can't say enough about the great work you do," she said.
The group also visited Marine Design Dynamics, Inc. (MDD), a company founded in 2005 by Sebastian Phillips with the goal of providing the highest quality engineering and program management services to the U.S. Navy, Department of Defense and commercial clients; The Daily Rider, an H-Street bicycle shop, co-owned by husband and wife Loren Copsey and Beth Rogers. The business offers a wide collection of bicycles – including several brands unique to the Washington, D.C. area market; the Art and Drama Therapy Institute, a non-residential facility with more than 21 years of experience in providing art and theater-based programs to individuals with differing abilities.
Others included Peregrine Espresso at its mid-city location on 14th Street; Cork Restaurant & Wine Bar, the creation of Logan Circle residents Diane Gross and Khalid Pitts and designed to offer a welcoming neighborhood space for people to try outstanding wines – often from unexplored regions of the world – paired with tasty and simple local food.
Peregrine Espresso opened on Capitol Hill in August 2008, and now has locations on 14th Street in Northwest and at Union Market in Northeast. The barista received an SBA loan for $165,000 in 2010 to help open the 14th street location.
The entourage received a special treat at the Art and Drama Therapy Institute (ADTI), a non-residential facility in the Eckington neighborhood in Northeast, where for more than 21 years, the staff has provided art and theater-based programs to individuals with physical and mental challenges. Adults at the facility performed three songs in the Noh classical Japanese musical style and the Grammy-nominated choir rocked the house with its renditions of "Papa was a Rolling Stone," and "Peace Be Still."
"We would not be here without the SBA," said Margaret "Dr. Do" Dickinson, co-founder of ADTI with colleague Sirkku M. Sky Hiltunen. "This is a calling and you deepen our ability to provide."
Johns appeared moved by the performance.
"I, on behalf of the entourage want to thank you for blessing us with your music," she said. "You're all so gifted. We at the SBA are delighted to have contributed one small bit to this facility."
The last stop was Wagshal's, a delicatessen and gourmet grocery store and a Washington, D.C. institution that has served the city since 1923.