Spingarn Graduates Last Class This Week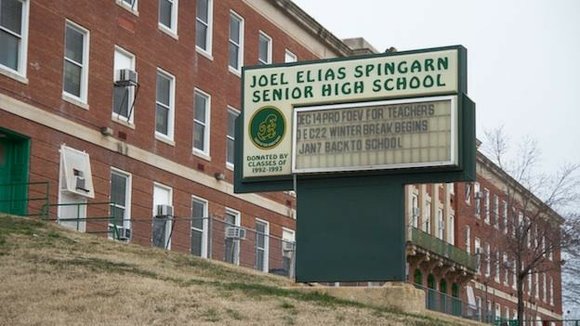 After 61 years, an era rich in tradition and history is about to come to an end: Joel Elias Spingarn Senior High School in Northeast, will close its doors for good this summer.
But while the building will host its final class of graduates on June 13, it isn't because it has fallen into a state of ill repair or been victimized by tightened budget constraints.
The three-story colonial-style structure, which sits imposingly atop a hill between the Langton Terrace Dwellings and the Langston Golf Course, is one of 15 District public schools Chancellor Kaya Henderson has targeted for closure due to declined enrollments, under-use and low student test scores.
Marty Tapscott, 76, who graduated in 1954, is among alumni who are disappointed over the closing of their beloved alma mater.
"I understand that there aren't enough students and that the school isn't performing to standards," said Tapscott, who retired in 1995 as a Richmond, Va., police chief.
"But my concern is that we're losing an important piece of history in D.C. When I attended high school, Spingarn was the only black school we had on that side of the city," he said. "I remember having to catch a bus to go all the way up to Dunbar from Oklahoma Avenue during my first year of high school. And, I had to pass Eastern High School to get there. So when they built Spingarn that was really a good thing."
Spingarn is also known for its iconic basketball program where several NBA legends like Elgin Baylor, Earl Jones and Detroit Mayor Dave Bing got their start as part of the Green Wave.
The team hosted its final home game in February, and, like this week's closing of the school, it was a bittersweet event.
When Spingarn, named for the Jewish American educator from New York opened in 1952, it was the first high school to he constructed in the District in nearly 40 years. Spingarn was recently listed among the D.C. Inventory of Historic Sites and on the National Register of Historic Places.
Construction on Spingarn began in 1950 with costs totaling $3.5 million. The school opened in 1952, just a few years after the Supreme Court struck down the concept of segregated school systems. During that time, in addition to its distinction as the newest and most modern of the District's schools, Spingarn was the top school for black students.
"Spingarn was 'the school' back then," said Arthur Scandrett, who graduated from the school in 1959. "My class had 300 students and just about every one of us graduated."
Scrandett, who boasts of never missing a day of his high school years, added that attending Spingarn wasn't all about the books.
"We had many, many good times," the 71-year-old real estate salesman said. "A group of juniors and seniors got together almost every weekend and we threw a house party," he recalled. "We didn't have the guns and fighting like the kids have today, because we were taught by our parents and teachers to respect each other."
Spingarn's final graduation takes place at 6 p.m., Thursday, June 13 at the school, located at 2500 Benning Road NE.