Aging in Place: Converting a Family Home into Senior Friendly Living Space
6/12/2013, 3 p.m.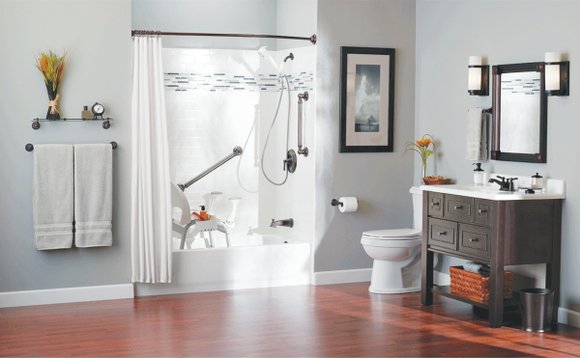 Like a growing number of Baby Boomers, Diane Morgan-Brown faced the dilemma of caring for her aging parents while living more than 400 miles away from them. Brown's parents, Rupert and Estelle Morgan, refused to move into a senior living facility, despite her dad's limited mobility due to hip replacement surgery, because "they believed they were too vibrant to settle into senior-hood." They also would not hear of moving in with either of their two children.

"My parents are very independent and want their privacy. The idea of living with other people, especially in my home with two small children, was not a viable solution for them," Morgan-Brown said.
Additionally, Morgan-Brown's job would not allow her to relocate to be nearer her parents.

A solution, however, came late last year with the introduction of U.S. Department of Housing and Urban Development grants to convert multi-family housing developments in nine states to assisted living or service-enriched environments for elderly residents.
While the Morgan's home, as a single-family unit, did not qualify for the initial grants, it did provide the family with an option of renovating the family home into a more senior-friendly space, rather than moving the family.

"HUD's conversion program promoted seniors 'aging in place' – meaning new features were added to existing homes to make them safer and more accessible for seniors whose mobility was compromised or simply declining. My husband and I thought that with a few thousand dollars, we could transform my parents' home into a place that mimicked assisted living safety," Morgan-Brown, 54, said.
Millions of Americans each year tackle similar renovations. For the Browns, widening doorways, fortifying stairwells with extra railings, and refitting the bathroom did the trick.

For those faced with the same dilemma, remodeling experts recommend assessing, first, whether a home is suitable for remodeling. In many instances, poorly cared for structures require stabilizing efforts before remodeling can begin, causing costs to skyrocket. In some instances, moving into senior living facilities or moving in with family, may be a more cost-effective option.
Quick and (Not so Costly) Renovations
One of the most common 'age in place' renovations is widening doorways to accommodate wheelchairs and walkers. This is not a do-it-yourself job and requires a contractor, who will know how to do the job according to housing guidelines. And one cannot consider wheelchairs and walkers without also taking into consideration the dreaded stairwell.

Stairwells pose a particular challenge to many seniors, but adding the electronic chair lifts – that literally glide seated riders from the one floor of their homes to another – can prove more costly than most budgets can secure. This was the case for the Morgans.
"My parents live in an old Victorian-style home with a pretty narrow stairway. We considered a number of renovations, but would have had to expand the width of the stair to landing and move them somewhere else while the renovations took place. It was also way too costly to do that just to add the chair lift," Morgan-Brown said. "We opted instead for additional railings."