Carmen Toruella-Quander: Art is Her Life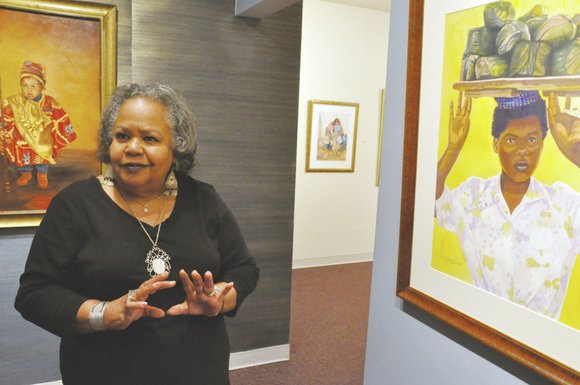 There couldn't be a better title for an exhibit of the works of D.C. artist Carmen Toruella-Quander than the one that now graces her one-woman exhibit currently on view at the Parish Gallery in Georgetown.
"My Travels-My Art," showcases the watercolors and paintings of a woman who has dedicated her life to capturing the essence of people, places and things. Her travels have taken her around the world, and the scenes that she has captured take the viewer on that trip with her. Having captured people in candid scenes from Africa, Latin America, the Caribbean and the Middle East, Quander's work is rooted in realism.
The Latin American women who are the subjects of "The Hat," and "Siblings," two watercolors that portray women going about their daily lives, owe their immortality on paper to Quander's inquisitive eye, which, she says, captures the subjects the way she wants to portray them.
"They hopefully mean something to people. I paint my impressions, and hopefully, they mean something to people, which is very different from aiming to please people," she said, relaxing momentarily in her Brookland home in Northeast, which also houses her studio chock full of her own work, and that of other artists who appealed to her along with a treasure trove of travel memorabilia.
"In the process of doing what I do, I am hoping that people feel good about what they see," she went on to further explain. But make no mistake – Quander regards art as her profession. "What I want people to come away with is a feeling – whether positive or negative, or something. I believe that is what art is about!"
Quander, who was born and raised in Washington, D.C. of Dominican parents, began her voyage as a professional artist when most people weren't even thinking about what they wanted to be when they grew up.
She recalls drawing pictures from the age of four, and in school, she always inserted illustrations into her written school reports. She enrolled at the Corcoran School of Art and later moved on to Pratt Institute in New York. It was in her first figure class that the instructor noticed her precision and talent, and said that she would go on to become a fine artist.
"For most artists of my era, this is what we learned in art school," she explained. "In my artistic experience, professional artists that used to do representational art, have graduated to another level in many cases. I never graduated to that level, and I am very pleased with what I do. I don't like to have to explain anything. You either like my work, or you don't like it," she reiterated.
It would be hard not to like something that Quander has created, since so many of her works of foreign vistas and the people of those countries capture cultural elements and authentic aspects of the places that she has traveled, and the images that have inspired her.
One work included in the exhibit at Parish Gallery is among her favorites – a rhino drinking from a pool of water that she observed while traveling in southern Africa with her husband, retired D.C. Judge Rohulamin Quander. She said that the rhino was actually sniffing in the dust, but she transformed the background into a pool of clear water where the rhino's reflection is clearly visible. Then, she decided to put "blush on her cheeks because I wanted her to be a girl," the artist added with a deep laugh.