D.C. Political Roundup: Evans Joins Mayoral Fray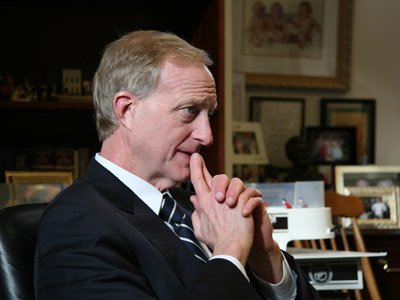 After months of hinting that he would do so, D.C. Council member Jack Evans (D-Ward 2) officially joined the race for mayor of the District on Saturday, June 8 at the Le Diplomate restaurant in Northwest.
"We want to make this the most admired and well-governed city in America," Evans, 59, said to dozens of supporters and onlookers. "That is why I am running to be the next mayor of Washington."
Evans, who has been on the D.C. Council since 1991 and is its longest serving member, joins D.C. Council members Muriel Bowser (D-Ward 4) and Tommy Wells (D-Ward 6) in the 2014 race for the Democratic Party nomination, set for April 1. Evans ran for mayor in 1998 but lost to Anthony Williams in the September Democratic primary.
The council member said that he wants to bring economic development to neighborhoods east of the Anacostia River by using the Business Improvement District (BID) process and financial incentives.
"We want to have BIDs east of the river so that businesses can feel comfortable moving there" he said. "We want to make sure that trash on the streets is picked up and that there is more police protection. As for incentives, I want to use the [tax and governmental] tools that brought the Whole Foods to P Street that completely changed the area surrounding it [made] available to Wards 7 and 8."
Evelyn Simmons said she's pleased that her council member wants to be mayor.
"I think he has done a good job working in Ward 2," said Simmons, who lives in Northwest. "I live on the eastern edge of the ward and it is very diverse and he represents us well. If he can translate that type of representation all over the city, he will be a good mayor."
Jauhar Abraham, the co-founder of the former anti-gang organization Peaceoholics, said he's supporting Evans on the basis of qualifications and character.
"I think he is the best candidate in the race," said Abraham, who lives in Southeast. "I don't care whether you are black, white or Chinese I want the best person who will help the people. Dr. Martin Luther King said that we should not judge people based on their color but by the content of their character and by supporting Jack I am doing that."
Abraham, 45, said that Evans reached out to his organization in 2004 when there was a rash of killings that took place in the 9th and O Street neighborhood in Northwest. He said that the council member helped Peaceholics get hundreds of thousands of dollars for its work and he wants to return the favor by helping to make Evans the chief executive of the District.
Simmons understands that some blacks in the District are uneasy about a white mayor, but she has some advice for them.
"I suggest that they talk to Jack," she said.
McDuffie, Cheh are Running for Re-election
D.C. Council Chairman Pro Tem Kenyan McDuffie (D-Ward 5) and D.C. Council member Mary Cheh (D-Ward 3) have indicated that they will run for re-election in 2014.
Cheh will run for a third term, a source close to her told the Informer. McDuffie, who has finished his first year on the city's legislative body, said that he will run for a full term next year but has other priorities now.
"I am focusing on getting through the budget process and representing my constituents," he said.
McDuffie recently fired an employee over the unauthorized use of his constituent service fund and apologized to Ward 5 residents for the incident.
"I hold myself and my office to the highest standard of personal integrity and have acted swiftly to address this matter," McDuffie, 37, said in a letter dated May 31. "To this end, yesterday, I took the necessary steps to terminate the employee and reported the violation to the Office of Campaign Finance. Now that this matter is under review, I have full confidence that the Office of Campaign Finance will conduct a thorough and prompt investigation."