D.C. Students Visit Bahamian Embassy
Oswald Brown, Special to The Informer | 6/12/2013, noon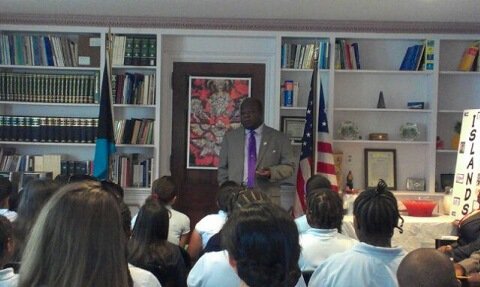 WASHINGTON, D.C. — Fifth-graders from the Takoma Education Campus were given a brief history of the Bahamas and its geographical makeup by the country's ambassador to the District during a visit to the Bahamas Embassy in Northwest on Tuesday.
Elliston Rahming's remarks augmented what the students had already studied about the Bahamas since November as part of the Embassy Adoption Program, which celebrated its 38th year in 2012.
Speaking at a luncheon held for the visiting students and their teachers in the embassy's first-floor conference room, the ambassador praised the students for the "fitting tribute" they paid to the Bahamas during a formal program prior to lunch being served.
"I was very impressed by what I experienced this morning," Rahming said in reference to the skits, songs and oral presentations given by students highlighting what they had learned about the Bahamas over the past several months. "It was a wonderful tribute to the Bahamas."
Rahming urged the students and their teachers to visit the Bahamas, declaring that "you'll love it."
The Embassy Adoption Program is a collaborative partnership with the District of Columbia Public School System, Washington Performing Arts Society and Embassies in the District of Columbia.
The program currently constitutes 50 classrooms, 50 embassies, 37 D.C. public schools and 1,250 fifth- and sixth-graders. It aims to engage students in cultural and global enrichment exercises by enhancing cultural competency, cross-cultural communication skills and increasing the understanding and awareness of the students' local and global community.
The role of the Embassy is to connect with the D.C. public schools via its students and community members by sharing the respective country's culture and customs, Participation in the program requires embassies to visit their respective schools a minimum of three times during the year.