Grand Design: Noteworthy Books on African American Home Design
6/12/2013, 3 p.m.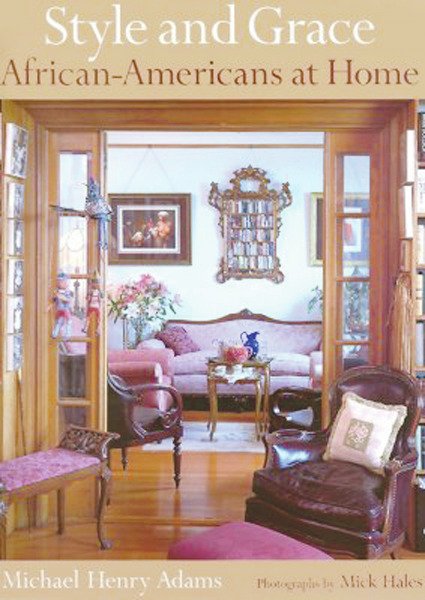 Style and Grace: African Americans at Home
By Michael Henry Adams
This new paperback edition of Style and Grace showcases the stylish, elegant, and, above all, unique homes of distinguished African American professionals and entertainers, by the premier expert on the architectural history of Harlem. Bulfinch's 2003 hardcover version of Style and Grace: African Americans at Home has done extremely well and is still selling, making this the perfect time to introduce an even more affordable paperback. Style and Grace is the first book of its kind, devoted exclusively to presenting an African American tradition of flair and creativity in home design and decoration. This unique book celebrates the distinctive style of notable homeowners such as hip-hop entrepreneur Russell Simmons, photographer Gordon Parks, and Congressman Charles Rangel, as well as leading bankers, lawyers, artists, and other professionals who have utilized cultural elements and icons to create gorgeous home environments.
9 Steps to Beautiful Living: Dream, Design, and Decorate your Home with Style
By Cecil Hayes
Beauty, elegance, and attention to the smallest details—these are the hallmarks of the work of acclaimed interior designer Cecil Hayes. One of the most celebrated designers in the world, Cecil Hayes at last shares her secrets in Cecil Hayes 9 Steps to Beautiful Living. Readers will discover how Hayes's nine steps, developed over the course of her career, make it easy—and even enjoyable—to transform a house into a dream home. Stunning full-color photographs illustrate the author's ideas with examples of rooms she has designed for top stars from sports, music, and movies, including Wesley Snipes, Samuel Jackson, Ty Law, and Timbaland. Clear, step-by-step instructions, cutting-edge design ideas, and warm advice give readers the confidence to create rooms that work well and look stunning.
Swahili Chic: The Feng Shui of Africa
By Bibi Jordan
Swahili Chic unveils an exotic approach to gracious living from a 2,000-year-old culture rich in beauty and sophistication. In this gloriously illustrated book, world traveler and style expert Bibi Jordan introduces Swahili shule -- the Swahili school of design, architecture, and graceful living that instills a sense of simplicity, sensuality, and spirituality to any interior. Travel from the coral atoll islands of East Africa to the warm trade winds of the Indian Ocean and discover the land where African kings, Arabian sultans, Chinese sailors, American whalers, and French pirates met to trade jewels, spices, and colorful fabrics.
Swahili Chic features the sensual coral palaces and historic traveler's inns of UNESCO world heritage sites Lamu and Zanzibar, as well as the romantic seaside cottages and eco-adventure resorts of Mombasa and Malindii. Individual chapters detail each region's rich culture and history, and highlight the most intriguing and inspirational aspects of the region's decor, making this an ideal book for the decorator, the armchair traveler, and the globetrotting adventurer. The final section features Bibi Jordan's expert guidance to integrating aspects of Swahili Chic into any decor, bringing the beauty, color, and grace of this timeless culture to the modern home, wherever in the world it may be.