Housing Resources and Solutions for a New Era
Pat Thorton, Special to The Washington Informer | 6/12/2013, 3 p.m.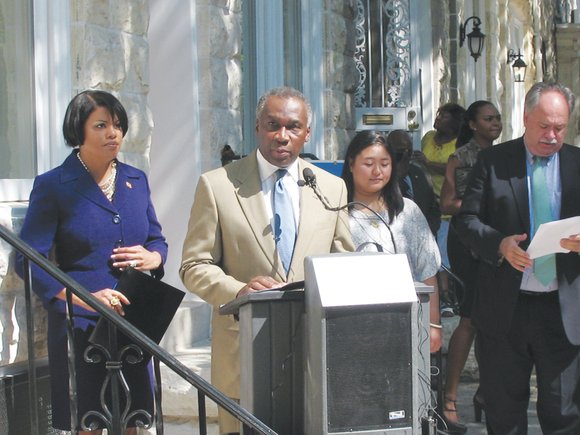 As the United States closes the gap in our recovery from one of the most severe economic downturns since the Great Depression, Americans need to take a serious look at our alternatives, and advocate for strategies that will make consumers whole again. One of my concerns regarding the state of our economy is that not enough support has been given to the victims of the housing crisis that began this catastrophic era.
As an economist, I have frequently looked back on the questions and decisions that were made in the post-Depression period, and wondered why we are asking the same questions and having some of the same battles we had then. As I consider these questions, I realize that if we are to survive this horrific period, there must be a shift in the strategies to bring us back to a solvent economy.
As we seek a solution to this crisis, I believe we have to focus on the primary causes of the problem – the over-inflated housing cost, coupled with a shift toward a technology driven workplace. These factors have created "under- water" mortgages, and the high rates of unemployment which have just begun to steadily decline. Although the primary way to address unemployment driven by technological advancements is to increase training opportunities, both traditional and non-traditional, the solutions for the housing crisis are multilayered, and will require a total shift in focus.
The State of Maryland has figured out a way to bundle services in a manner that appears to be working. "Maryland's strengthening economy and improving housing market are creating great opportunities for many Maryland families," says Raymond Skinner, secretary of the Maryland Department of Housing and Community Development, (DHCD).  "Interest rates remain at historic lows and the state offers several homeownership incentives through our Maryland Mortgage Program (MMP) for first-time homebuyers, veterans and military families and for families looking for homes in targeted areas throughout the state." 
Skinner was appointed to his position in 2007 by Maryland Gov. Martin O'Malley. He previously held this position from 1999-2003, during the administration of Gov. Parris Glendening. Skinner has more than 35 years of experience in a variety of positions including executive management at the highest levels of state and local government. His areas of expertise include urban planning, affordable housing finance and development, strategic planning, public policy development and analysis, community/economic development, and small business finance.
With Interest rates lower than they have been since the 1950s, DHCD has begun to leverage its dollars by backing mortgage loans for first-time homebuyers and military veterans; and offering assistance with closing costs. Current interest rates are between 2.75 percent - 4.00 percent, and closing cost support ranges between, $5,000-$10,000. For more information about MMP visit: www.mmprogram.org  or call, 1-800-638-7781.
Further, Maryland has model programs and resources not only directed toward struggling homeowners, but also geared toward helping residents take advantage of this small window of opportunity to become homeowners. From the revamped HOPE (Home Owners Preserving Equity), to the utilization of the federal HARP (Home Affordable Refinance Program), Maryland has outperformed Virginia, Delaware, Pennsylvania and D.C. in helping households refinance their homes. For more information about the HARP visit: www.harp.harpmortgagelender.com/check-eligibility.