Housing Resources and Solutions for a New Era
Pat Thorton, Special to The Washington Informer | 6/12/2013, 3 p.m.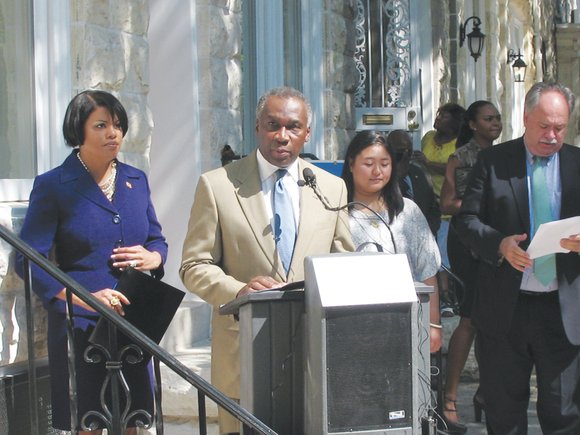 Access to reliable information through free foreclosure prevention and legal counseling is a key component of Maryland's approach. Through the HOPE Initiative, Maryland built the MD HOPE Counseling Network, a 24-hour MD HOPE Hotline at 877-462-7555, and the MD HOPE website, (Http://www.mdhope.org).
Marylanders can be proud of the HOPE Program, because it was one of the first of its kind, and has been replicated throughout the country. Although Maryland foreclosures rose 12 percent in April compared to March, 2013, according to CoreLogic Data, Maryland ranked ninth nationally in completed foreclosures for the year ending April 30, 2013. In an effort to address the issues surrounding foreclosures in Maryland, Lt. Gov. Anthony Brown recently announced the availability of $11.8 million for Non-profit Housing Counselors throughout Maryland. Thirty-nine non-profit agencies will use the grant funds to: provide assistance to those facing foreclosures, act as a resource to negotiate reasonable terms with mortgage servicers, and advise citizens on the best actions to take to save their homes. To learn about the grant program visit: Mdhousing's Blog at http://blog.mdhousing.org/2013/02/20.
Although the programs mentioned above will prove to be critical in helping Maryland to recover from the housing crisis, we must begin to find creative ways to identify housing for individuals who have lost their homes. We all know that in our hierarchy of needs, food and shelter are primary needs that cannot go unmet, and those who have lost their homes are not in a position to replace them. Therefore, we must find more ways to creatively secure bank loans, and identify alternative options that will enable people to maintain their quality of life, and dignity.
The cooperative housing model has proven to be a great option for people to again begin their transition to home ownership. According to the National Association of Cooperatives (NAHC), a housing cooperative is formed when people join with each other on a democratic basis to own or control the housing and/or related community facilities in which they live. The main distinction between a housing co-op and other forms of homeownership is that in a housing co-op you do not directly own real estate. Cooperative members own a share in a corporation that owns or controls the building(s) and/or property in which they live.
The housing cooperative structure is appealing as an alternative to the "No Return on Investment (ROI) rent option," because the cooperative will permit an individual to have a lower down payment (as little as $5,000); have below average monthly costs (as compared with comparable units); tax deductions (co-op members are usually considered to be homeowners); and earn equity on their original investment. Certainly, that option beats the zeros that are associated with the "No-ROI-Rent Option." For more information on housing cooperatives visit: www.coophousing.org.
Cities that have taken advantage of the benefits associated with cooperatives have used them to eliminate low-income housing projects and other forms of deteriorated housing constructs; to solve problems such as gentrification and property abandonment; and to create more low-moderate income housing options.
Today more than 130 million Americans – 40 percent of the population are members of one or another form of co-ops (Gar Alperovits, What Then Must We Do, 2013). This is certainly an indication that a large percentage of the population has realized that in order to truly save this country, and survive this pivotal time, we must begin to move beyond ourselves, and in fact ultimately become "our Brothers & Sisters keeper."
Pat Thornton is the President/CEO of Patyna Communications. She hosts The Thornton Business Hour, a business resource and news show that airs on Radio One's WOL 1450 AM station every Wednesday from 11a.m.–12 p.m.