Howard U. Plants Gardens for Children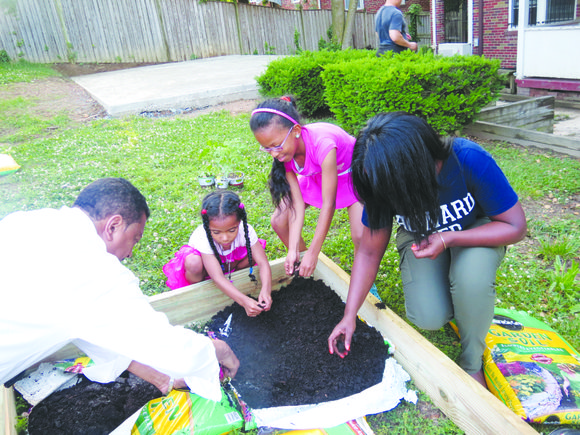 Taleyah and Dakota Evans kneeled beside a 4-foot-by-4-foot wooden, square box where the two crumbled large pieces of soil for a new project – a garden – that they're sure will bring them a lot of personal satisfaction and tasty salads. And, what's makes it even more fun – it's in their own backyard.
The sisters squealed in delight as they played in the rich top soil, and spread it generously throughout the planter. Their garden required five bags of soil to completely cover the small surface. Taleyah dug a hole in the dirt with her hands, and carefully placed a basil plant into it, under the close scrutiny of the Howard University College of Medicine's My Garden team on June 8. Dakota planted a small cucumber vine. Then, the sisters planted a tomato vine and meticulously dropped bean seeds into the rich, black soil.
"I think it's really cool we have a garden because it was fun to plant in it, and then [we can eat] the fresh vegetables later," said Taleyah, 9, a third grader who attends a D.C. public school in Northeast. Her five-year-old sister promised she would care for the garden. Afterward, the girls pushed a sign that read: "Taleyah and Dakota's Garden," deep into the soil.
Creating the garden took no more than 30 minutes; however, the lesson the girls learned could last a lifetime, said the My Garden team.
The Evanses, who live in Ward 7 in Southeast, counted among 50 District families with school-age children who participated in the second annual My Garden project, and received a free garden courtesy of Howard's College of Medicine in Northwest. The program provided families gardens that will teach children healthy eating habits and the joy of watching vegetables grow.
"Children will develop better eating habits when they eat what they grow," said Dr. Michal Young, chair of the Department of Pediatrics at Howard University Hospital, and a professor at Howard's College of Medicine. Young, who joined the Howard University medical team in 2006, also provided the girls with a potted mint plant to keep pests away.
"The children have more ownership of the plants," said Young, who volunteered with other Howard physicians to assist families with the gardens, and who shared information about caring for each plant.
Now in its second year, Howard's My Garden project offered a way for the university to "become involved in the community," said Ionnie McNeill, the project coordinator, who tends to Howard's student-run organic garden.
"The doctors could become more engaged, and assist with ensuring the health of the children," McNeill added. "How many pediatricians do you know [who] make house calls?"
That's exactly why doctors like Young got involved.
McNeill said the ideal scenario would be for doctors to visit the families every two weeks to check on the gardens and the children's health.
"This project fulfilled many needs," said Dr. Mark Johnson, 62, dean of the College of Medicine. "The response by District families has been enthusiastic."
The children in the project ranged in age from 3 to 14, and hailed from all quadrants of the District.
"What we eat is so divorced from how we get it," Johnson said. "Nationally, we want to fight childhood obesity and we want to promote better eating with vegetables and fruits."
According to the Centers for Disease Control and Prevention, childhood obesity, described as having excess body fat, has more than doubled in the past 30 years. The percentage of obese children, from 6 to 11 years old in the United States increased from 7 percent in 1980 to nearly 18 percent in 2010.
The hope is that the garden project can change lives, even on a small scale in the District.
"In a country where people say their favorite vegetable is the french fry, we want to begin a culture of sustainability where we can use locally grown foods," said Johnson.
For the inaugural project last year, My Garden began on a smaller scale with a dozen families involved. However, children took center stage this year.
"I think that based upon the satisfaction of the families last year, it's a program we want to sustain," Johnson said. "We expect the children who participate to understand the value of what they're growing."