NO. VIRGINIA BRIEFS: McDonnell Restores Voting, Civil Rights on Individualized Basis for Non-Violent Felons
6/12/2013, 3 p.m.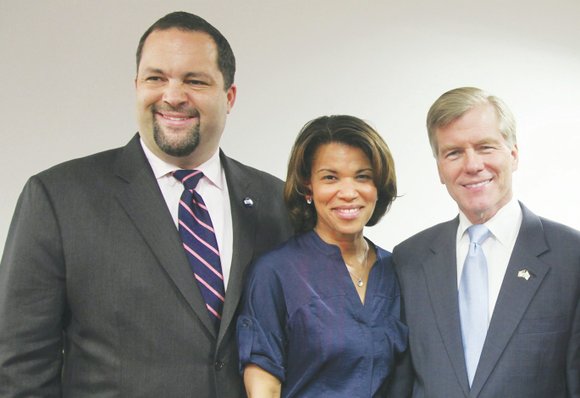 Gov. Bob McDonnell recently announced that he will automatically restore, on an individualized basis, civil rights to non-violent felons who meet the following specific conditions: 1) completion of their sentence, probation or parole; 2) payment of all court costs, fines, restitution, and completion of court-ordered conditions, and 3) have no pending felony charges.
Speaking about his announcement, Governor McDonnell stated, "When someone commits a crime they must be justly punished; however, once these individuals have served their time and fully paid for the offenses they committed, they should be afforded a clear and fair opportunity to resume their lives as productive members of our society. America is a land of opportunity and second chances; a land where we cherish and protect our constitutional rights. For those who have fully paid their debt for their crimes, they deserve a second chance to fully rejoin society and exercise their civil and constitutional rights."
In 2010 McDonnell created the Prisoner and Juvenile Offender Re-entry Council and asked the Departments of Corrections and Juvenile Justice to work with other state agencies and engage in coordinated re-entry planning. Focusing on evidence-based practices and effective programming, Virginia has made tremendous progress to prepare offenders to return to their communities after serving their time and to become productive members of their community.
"As Americans, we believe in second chances and we believe in the right to vote," said Benjamin Todd Jealous, President and CEO of the NAACP, who was on hand for the announcement. "This is a great step for Virginia and we look forward to working with the Commonwealth and our state conference on expanding the vote. Anyone who has made a mistake, done their time and paid their debt to society should be able to join their neighbors at the voting booth."
The restoring of civil rights does not include the restoration of the right to possess or carry a firearm, which can still be done by application to the appropriate circuit court. Individuals with violent felony convictions are not affected by this change and will need to go through the application process for review as is currently the case.
Virginia Approved to Offer Coordinated Healthcare for Medicare-Medicaid Enrollees
Virginia was recently approved to implement a new healthcare initiative, the Medicare-Medicaid Enrollee (dual eligible) Financial Alignment Demonstration, aimed at coordinating care for more than 78,000 Virginians currently enrolled in Medicare and Medicaid.
The new initiative, recently branded as Commonwealth Coordinated Care, will coordinate care for individuals who meet certain eligibility requirements and are served currently by both Medicare and Medicaid. Commonwealth Coordinated Care is designed to be the single program accountable for coordinating the delivery of primary, preventive, acute, behavioral, and long-term services and supports for this population.

The goal of this initiative is to provide Virginians high quality health care and supports coordinating the Medicare and Medicaid benefits into a single person-centered program. Through this effort, taxpayers will see greater savings through the delivery of cost-effective and appropriate treatment and services for some of Virginia's most vulnerable citizens.
Efficiencies gained through this program are expected to yield financial savings to Virginia. DMAS budget forecast for state fiscal year 2014 included $11.3 million in general fund savings. These savings assumed a January 1, 2014 implementation date as well as a 50 percent match rate. Due to timing of the DMAS forecasting process, the savings were estimated before the agreement with CMS was reached which laid out the rate setting methodology and cost savings sharing agreed upon for the program. These factors may alter the initial forecast which will be updated in the next budget cycle.
Medicare and Medicaid were originally not designed to work together, yet there are more than 78,000 Virginians who currently participate in both programs and will now be eligible for Commonwealth Coordinated Care.