Former D.C. Council member Michael Brown Pleads Guilty to Bribery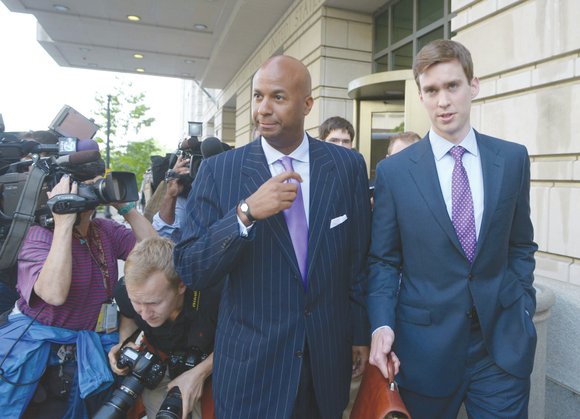 A once promising political star in the District recently pleaded guilty to accepting thousands of dollars in bribes from businessmen who turned out to be federal agents.
Former D.C. Council member Michael A. Brown accepted responsibility for taking $55,000 in cash from FBI agents who posed as businessmen interested in participating in the city's controversial certified business enterprise program. He made the plea in front of U.S. District Court Judge Robert Wilkins on Monday, June 10 at the federal courthouse in Northwest.
"Today, Michael Brown became the third member of the D.C. Council to plead guilty to a felony in the last 18 months," said U.S. Attorney Ronald Machen, 43. "This prosecution should make clear that we will not allow the politics of pay-to-play to flourish in the District of Columbia. We will not tolerate the backroom deals, the secret payments, and the unreported cash that corrupt not only our elections and public officials but our entire system of government."
Howard University political scientist Michael Fauntroy said that Brown's downfall could have been anticipated.
"I am sad but not surprised," Fauntroy said. "However, this behavior is not a surprise to people who know him."
Brown, 48, served on the D.C. Council from 2009-2013 but lost his bid for a second term to current D.C. Council member David Grosso (I-At Large) in the November 2012 general election. He attempted to get back on the D.C. Council earlier this year by running in the April 23 special election to replace Phil Mendelson's at-large seat, but dropped out due to what he said then were personal and family reasons.
Brown is the son of the late Ronald Brown and former business executive and socialite Alma Brown. Ronald Brown became the first black to lead the Democratic Party and the first black to serve as the U.S. secretary of commerce.
Brown ran for mayor of the District in 2006 but dropped out to support Linda Cropp shortly before the September Democratic Party primary. Cropp lost overwhelmingly to Ward 4 D.C. Council member Adrian Fenty, who won the November general election.
Brown attempted to take Fenty's seat but lost to future colleague Muriel Bowser in a May 2007 special election. In 2008, he changed his party affiliation from Democrat to Independent and won an at-large position on the D.C. Council in the November 8 general election.
On the D.C. Council, Brown made a name for himself by advocating for more resources for low-income District residents and securing better economic opportunities for residents of Wards 7 and 8.
A year ago, during Brown's re-election campaign, published reports surfaced about money being stolen from his campaign accounts and about his financial and family problems. The D.C. Office of Campaign Finance, nevertheless, issued a report last fall that said that Brown had nothing to do with the missing money in his campaign coffers.
On Thursday, June 6, Brown conducted a conference call in which he told supporters of his plan to plead guilty as a result of a sting operation. This is not Brown's first brush with the law.